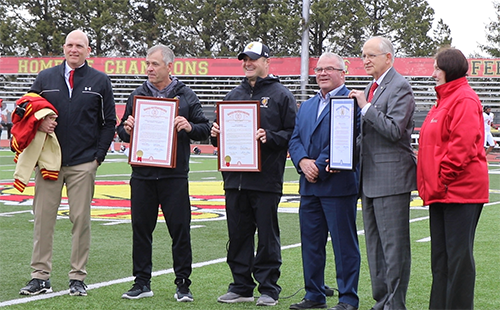 Various tributes were received Friday, April 22 as Ferris State University celebrated the football program's 2021 NCAA Division II championship, in a ceremony during their Spring Game. (from left) Athletic Director Steve Brockelbank, Head Coach Tony Annese, Defensive Coordinator Ryan Hodges, State Senator Rick Outman (R-Six Lakes), Ferris President David Eisler and his wife Patsy participated, with special state-level tributes offered for the team, along with Annese and Hodges, who won Coach of the Year honors from separate publications.
Ferris State University's 2021 NCAA National Championship football team was again honored Friday, April 22, at Top Taggart Field in Big Rapids during its Spring Game.
Special guests joined university and athletic administrators for several presentations recognizing the football team's achievement on December 18, 2021, its first Division II title that caps a run of seven straight postseason appearances.
State Senator Rick Outman (R-Six Lakes) brought a Proclamation of Special Tribute offered before the Michigan Legislature on Friday, January 21.
That document read, in part, "Under the direction of a great coaching staff, the team blended well as a unit. The players displayed great poise in setting lofty goals for themselves at the beginning of the season and going out and making those dreams a reality through hard work and commitment. These talented student-athletes can be justifiably proud, for they represented their school, community, and state with great distinction."
Separate proclamations were presented to head coach Tony Annese, who earned the D2Football.com Coach of the Year award and Defensive Coordinator Ryan Hodges, selected as Coordinator of the Year by Football Scoop. Annese also received a presentation model of the team's championship ring from great-great-grandaughters of founder Woodbridge Ferris, Tammy Smith and Julie Ferris.
The football program and athletics director Steve Brockelbank presented football letter jackets to President David Eisler and his wife, Patsy. Eisler will retire at the end of June. President Eisler also offered a tribute from Governor Gretchen Whitmer among the presentations.
The Bulldogs football team begins defense of its NCAA Division II championship on Thursday, Sept. 1, as they host Central Washington University at Top Taggart Field.