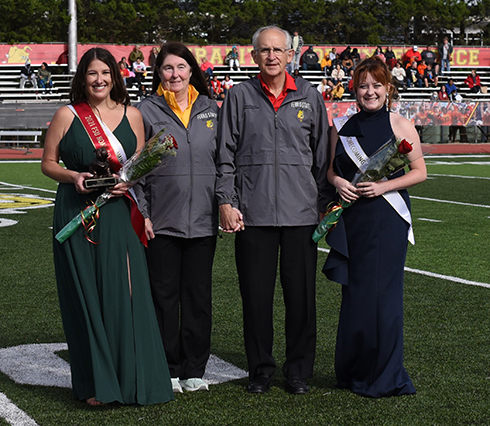 Emily Obermeyer, (left) a senior in Ferris State University's Information Security and Intelligence program from Grand Rapids was named 2021 Homecoming Ambassador Saturday, Sept. 25. During a halftime ceremony, Ferris President David Eisler and his wife, Patsy, joined Obermeyer and ambassador candidate Kennedy Melton, of Baroda.
A hint of fall weather was in the air Saturday, Sept. 25, in Big Rapids, as Ferris State University's 95th Homecoming celebration moved into its final day, with activities in town and on campus.
It was a festive atmosphere with music, smells of picnic food and happy groups of students, faculty, university staff and Ferris supporters filling parking lots near Top Taggart Field. "Bulldogs Back to Campus" was the theme for the schedule of events leading up to Saturday. That theme held true for various groups, from long-standing organizations to gatherings of casual friends who reveled in the chance to celebrate their friendships and the university experience.
Maryann Sprinkle-Walker was with her Alpha Kappa Alpha sisters on Reunion Row, celebrating the 50th anniversary of the sorority receiving its charter. Walker, who was a member of the Zeta Epsilon chapter during the early 1980s, is the treasurer and administrator for the executive board of the Pink and Green reunion committee. She was elated by the turnout from sisters across the history of their chapter, rechartered in 2012.
"Our committee includes four of the original 12 members, from when AKA received its initial charter," Walker said. "As we planned this event, we were concerned that the pandemic might impact our response for the celebration, though we had confidence in our sisters' commitment to the chapter."
Walker said of the 23 lines, or initiated groups of Zeta Epsilon sisters their chapter welcomed across its history, there was representation from 15 lines during Homecoming, Saturday.
A few aisles over, on Lot 37, Hospitality Management senior Aaron Davis, from Saginaw, was setting up lunch with his friends. Davis said tailgating before a Ferris game is an important part of his campus experience.
"I come here all the time, every tailgate is great fun and we follow that up by attending most of the games," Davis said. "Sometimes I come with fraternity brothers from Sigma Phi Epsilon, or friends from home will visit."
Davis said the experience is something he wants to continue after earning his degree in May 2022.
"I really expect to be back often, once I start my career if that finds me in Michigan," Davis said. "This is great, but my first priority is to build experience so I can become a food director."
In the Gridiron Club lot, a former Ferris employee and longtime Big Rapids resident enjoyed a hot dog and conversation as Bulldog players walked into Top Taggart Field. Stan Vallier was in high spirits, thanks to the company of friends and the opportunity to celebrate safely outdoors.
"I just love coming here because everyone is happy to support the university and community," Vallier said. "You have the chance to meet new people and also enjoy the company of friends my wife Jean and I have known for decades. I enjoy every chance to be out here."
A crowd of more than 6,000 filled Top Taggart Field for the Homecoming football game against Davenport University. At halftime, the announcement was made on Homecoming Ambassador voting and senior Emily Obermeyer, of Grand Rapids, was honored at midfield by Ferris President David Eisler and his wife, Patsy. Obermeyer, an Information Security and Intelligence student, said she was overjoyed by the result and the opportunity to represent the Office of Student Involvement and Ferris in the year to come.
"This has been a super great experience this week since ambassador candidates are welcome to participate in Homecoming events," she said. "I have loved every minute of this, so serving as an ambassador from here on will be a great honor that I look forward to."
Obermeyer said her experiences in registered student organizations have been an important element of her growth while attending Ferris.
"Being in RSOs and other groups has definitely helped to mold me as a student and person," Obermeyer said. "I have grown a great deal during my time on campus. All these opportunities will be an asset as I prepare for my professional and personal life after I graduate."
The afternoon ended with Ferris' football fortunes rising, as the second-ranked team in NCAA Division II notched its first shutout of the year in a 38-0 stifling of Davenport University.