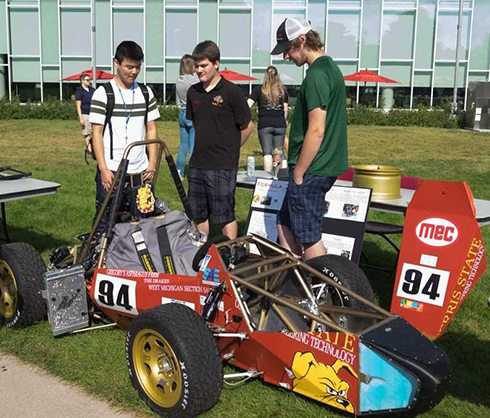 Bulldog Bonanza, an annual event in Ferris State University's Bulldog Beginnings schedule of programs will take place Wednesday, Sept. 8 on the Robinson Quad, or in case of inclement weather, the University Center building.
Ferris State University will gather scores of organizations and area businesses on the Dewaine V. and Jana B. Robinson Quad Wednesday, Sept. 8, for the Bulldog Bonanza, as part of the Bulldog Beginnings schedule of events.
Student Activities Specialist Teresa Fogel said Bulldog Bonanza has a history of more than 20 years, emphasizing making students comfortable with the groups and retailers who take part in this event.
"We want this to be a free event so students can learn more about registered student organizations that might line up with their interests and their options, in terms of what area shops and businesses might offer them," Fogel said. "Bulldog Radio will be playing their music on stage, so there is much to enjoy on a late summer day."
Fogel added that the Ferris Club Wrestling team and the Equestrian program are a couple of registered student organizations that take part in both the Rec Fest, early in Bulldog Beginnings, and this year's Bulldog Bonanza.
"There are often near 100 of the more than 200 RSOs on hand to reach out to students who may be interested in their group," Fogel said. "We know there will be Greek organizations and student chapters of professional groups who will be offering information and outreach."
In case of inclement weather, Bulldog Bonanza will take place in the University Center.