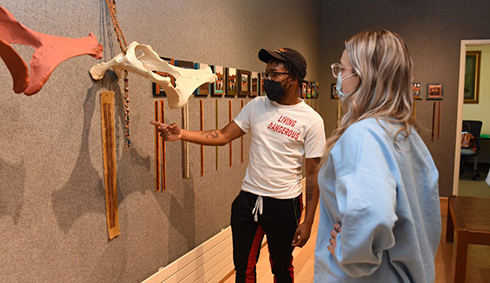 Shown here is a scene from inside the Fine Art Gallery in the University Center building at Ferris State University.
Bringing art and learning opportunities to the Ferris State University and Big Rapids communities is the continuing goal of the Fine Art Gallery, located in Room 205 of Ferris' University Center building.
Fine Art Gallery Director Carrie Weis said that the gallery has a 50-year history centrally located on campus. Since 2000, Weis has served the university and community as director.
"There was a Rankin Art Gallery, in what had been a small auditorium in that building," Weis said. "When the facility was redesigned and the University Center opened, in 2015, we began exhibitions in our current space. Our Fine Art Gallery is, I believe, a perfect facility, an intimate space that accommodates displays of a single artist very well."
At the beginning of the academic year, a variety of Bruce Davidson photos, from the Jim Crow Museum's collection, were featured followed by the paintings of alumna Kathleen VanDeMark, "Maybelle Visits Palo Duro Canyon," exhibited through Saturday, Oct. 23.
"We are glad to have someone with deep ties to the community and gallery support us by providing her talents and story for this exhibit," Weis said. "Kathleen developed a series based on her horse, Maybelle, to raise awareness about the slaughter of ponies in the Texas Panhandle due to a 19th century U.S. Army attack on various Native American tribes. She spoke about this tragedy at a reception on Thursday, Sept. 16."
Weis was excited to bring 29 graphic works by Francoise Gilot to the gallery beginning Monday, Nov. 1. The exhibit, "100 Years of Perseverance in Life and Art," is another occasion where Gilot's works will have graced the Ferris campus. In addition, she donated rare color proofs during a visit to Big Rapids in 1971.
"She generously offered her time to meet with and demonstrate printmaking to graphic design students, a notable event during Ferris State College's history," Weis said. "How she found her way to the campus is not clear, but what an opportunity Ferris students had, to learn from a contemporary of Pablo Picasso, who fathered two of her children. Ms. Gilot is still living in New York, weeks away from her 100th birthday (Nov. 26). This exhibit, comprised of works from the Muskegon Museum of Art, the DKH Gallery, and other Michigan collectors, is being offered to celebrate her genius and talent in printmaking."
Weis said the exhibit also allows collaboration with another university department and offers more significant exposure to Gilot's works.
"A catalog has been produced, which will be the first for one of our exhibits, as Associate Professor Tim Powers of our Graphic Design faculty offered his abilities to the project," Weis said. "It will be a full-color representation of this exhibit to keep and enjoy, so we are thrilled to build on this opportunity."
Other images from the West Michigan Graphic Design Archives, housed on the Western Michigan University campus, will be featured in 2022.
"Two of Ferris' emeriti are assisting in the curation of this exhibit," Weis said. "This will be a Michigan-themed presentation, with images that were created in the region from the 1950s up to today. The university's graphic design registered student organization is among our collaborators here. We expect the show will be a significant one, drawing regional interest and visitation to the gallery."
Weis said the scheduled exhibits that have taken place and those to come might seem grand in their scope. Still, the sudden campus closure in the 2019-20 academic year and other influences have brought these productions into existence, one after another.
"The irony is that while it seems we are 'going big,' event-wise, many of these exhibitions have been in the works for some time," Weis said. "We are glad to have this schedule arranged at a time where we are trying to restore and welcome our audiences, including those who may have seen Francoise Gilot in 1971."
Weis said the collaborative energy of the Fine Art Gallery peaks when exhibits come from their "indie incubator," where she builds a diverse group of students and faculty to provide their talents and work together to create the production.
"A recent example of this is 'From Poems to 3-D Prints,'" Weis said. "Creative Writing Coordinator Deirdre Fagan's students viewed certain works and wrote on their impressions and experiences. The Office of International Education brought the perspective of their annual BEYOND theme of 'conflict' as they expanded on the message. That was followed by character illustrations, done in three perspectives by Professor Patricia Constantine's Medical Illustration students at the Kendall College of Art and Design. From that work, Digital Animation and Game Design students made renditions, which were the basis for vector renderings. That final effort, coordinated by Product Design Engineering Technology Assistant Professor Luke Hedman, paved the way for 3-D printing of the images."
Weis said this collaborative process is linear and exciting for participants at all levels of creation, making it a great fit with the pedagogies of all the contributors.
"When students create art, they are so engaged in their efforts based in, or brought to our gallery," Weis said. "It helps them come to understand they can be real contributors to the artistic process. We are always open to new ideas, especially those that bring about creative collaboration."
These exhibits and efforts are synchronous with the gallery's mission "to educate, enrich and engage faculty, staff students and our community through art exhibitions of the highest quality. The gallery strives to stimulate appreciation for, and to advance the knowledge of works of hart at the highest possible museum and scholarly standards."
The Fine Art Gallery is open Monday through Saturday, except during Ferris' holiday break.