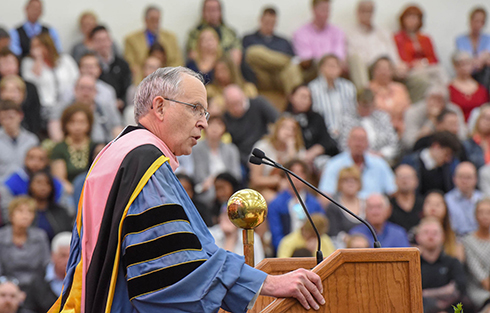 Ferris State University is returning to in-person commencement on Saturday, Dec. 18 at Jim Wink Arena of the Ewigleben Sports Complex.
Ferris State University returns to in-person commencement ceremonies to close the Fall 2021 semester on the Big Rapids campus. The university expects to graduate approximately 860 students with degrees and certificates – including more than 641 scheduled to participate during three sessions on Saturday, Dec. 18, in Jim Wink Arena of the Ewigleben Sports Complex.
The featured commencement speaker is Patrick Bishop, a professor of Public Relations and Marketing in the College of Business. Traditionally, the fall commencement ceremony speaker is the most recent recipient of the Distinguished Teacher Award in Spring 2021.
Commencement features three sessions. The morning ceremony begins at 9 a.m. and recognizes College of Arts, Sciences and Education graduates. The 12:30 p.m. ceremony celebrates College of Business graduates, and a 4 p.m. ceremony features graduates from the College of Engineering Technology and College of Health Professions to close out the day. Fall 2021 graduates and facility guests must be prepared to wear a mask from when they arrive until they depart the commencement venue. The only exception is graduates can remove their face coverings for their official commencement photo. Additional information could be forthcoming.
Graduating Ferris Statewide and Online students participating in the Big Rapids ceremony will walk with their affiliated college. Graduates who wish to attend a ceremony should contact their college's commencement coordinator. Kendall College of Art and Design, the Michigan College of Optometry, College of Pharmacy and Doctorate in Community College Leadership annually honor graduates during spring ceremonies in May.
Graduates planning to participate in the Fall 2021 commencement receive six tickets. The tickets are required for admission, with exceptions made for children 2 years old and younger. No extra tickets are distributed by the Commencement Office or the college commencement coordinators. Lost tickets will not be replaced.
For people interested in but unable to attend commencement, the ceremonies are streamed live. Watch the online stream by clicking the link. That live stream will be available courtesy of Ferris Cable 22.
Click special accommodations for more information for attendees with special needs.
Click ticket information to learn more about requirements to attend ceremonies in Big Rapids.
Click commencement for general information about the ceremonies.

Check out feature stories on top graduates from the fall class of 2021 (with more added leading up to commencement on Dec. 18):
Stacey Sandy
Veronica Mascorro
Axel Laurain
Barrett Jones
Fall 2021 Main Campus Commencement Ceremonies
Saturday, Dec. 18
Ceremony 1
9 a.m.
College of Arts, Sciences and Education
Ceremony 2
12:30 p.m.
College of Business
Ceremony 3
4 p.m.
College of Engineering Technology
College of Health Professions