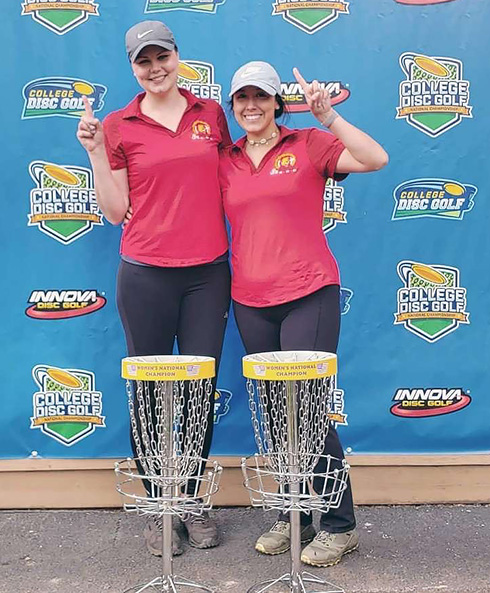 Experience and confidence were key contributing factors for the duo representing Ferris State University in the Women's Team competition at the 2021 College Disc Golf National Championship, held April 7-10 in Marion, North Carolina.
Tianna Halfaday, a 2019 CDNGC All-American studying Finance, teamed with Rachel Dupre, a Pharmacy student from Gladwin, to top an eight-team field by 12 strokes.
"I do not want to seem arrogant, but we went in assured of our abilities and preparation and played to what the North Cove Disc Golf and Social Club presented to us," said Halfaday, a native of Wilson, Michigan in the Upper Peninsula. "I was shocked, based on the ratings of our opponents from Clemson and other southern schools, that we entered the final round with the lead we had."
Halfaday said the Ferris disc golf competitors' courses presented different challenges than the relatively new layout that hosted the 2021 CDNGC championships.
"We have a more wooded course, where we do the bulk of our training," Halfaday said. "There is water on nearly every hole and more out-of-bounds areas to encounter. We paid attention to the course factors on the championship layout and accounted for them in our playing strategy."
Halfaday said the team play in 2021 saw fewer opponents with extended rosters that would factor into the team competition to address health and safety concerns in the continuing COVID-19 pandemic.
"I will be continuing as a student in 2022, so I hope circumstances improve and Ferris can grow the membership of our club team, so we can continue to enjoy disc golf and represent the university well, regionally and nationally," Halfaday said. "I am proud of my play with Rachel and our efforts in the women's individual championship."
Halfaday finished second in the women's individual competition, four strokes behind Whitney Brown, of Southern Arkansas. Dupre finished fifth, four strokes back of Halfaday. The Ferris Men's 'A' Team of 2020 Heavy Equipment Engineering alumnus Patrick Nemmer, of Hudsonville, and Michigan College of Optometry student Caleb Mergener, of Portage, finished ninth in the men's team event, four strokes off the pace of the champions from the University of Georgia. Mergener and Nemmer participated in the men's individual competition but did not qualify for the nine-hole final round.