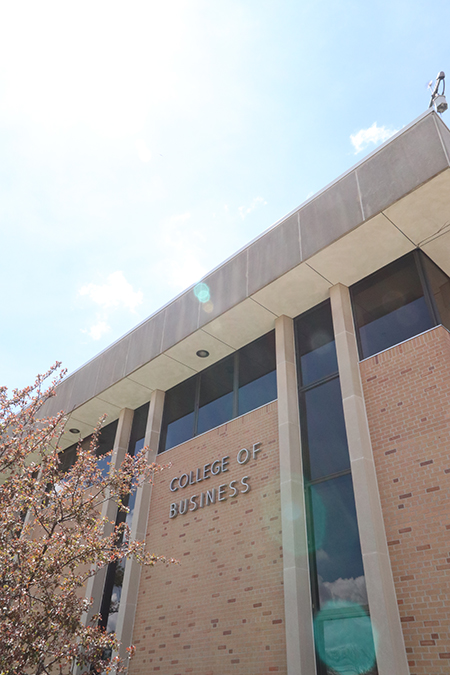 Contributions from various members spurred the American Marketing Association at Ferris State University registered student organization to a Top 10 Chapter honor at the virtual AMA International Collegiate Conference.
Scot Squires, the AMA chapter advisor and a professor of Marketing in the College of Business, said this was a thrilling honor for their students when the announcement came after the 43rd ICC.
"This result caps a great year for our chapter, to be recognized among the major institutions and premiere chapters in the association, because of the extensive efforts our students made," Squires said. "Our lead competitors are the ones who keep the team on task, which, during a continuing pandemic, regularly called for problem-solving efforts. If an event did not achieve their expectations, I found the students learned from the experience, then adapted their methods, using applied knowledge for their successes elsewhere."
Senior Jared Prevost, of Marquette, was the runner-up in the Student Marketer of the Year competition. Incoming AMA Ferris President Nadia Greania, of Johannesburg, and Kaitlyn Olson, of Coral, won fourth-place honors in the Marketing Strategy Competition. The AMA Ferris team was among 18 institutions earning a "commendable" rating in the AMA Collegiate Case Competition.
"Jared is a Finance major who recognized the value of participating in AMA, and we are proud of his accomplishment, which came through a vote of his student peers," Squires said. "Our Top 10 finish as a chapter was determined after a comprehensive review of our chapter plan, the annual report the students generated, along with identifying their professional development work, member engagement, fundraising activities, the operation of their chapter and the level of communication about all these efforts. I was ready to assist when students asked, but their result is a testament to the contributions from each chapter member."
Squires was third in the Hugh G. Wales Faculty Advisor of the Year selection.
"I didn't know the students had nominated me," Squires said. "It was certainly a surprise and an honor."
This fall, Squires will co-advise the AMA with Marketing Professor Donna Green.
"Dr. Green and I have already been working with students to plan for next year," Squires said. "Our RSO achieved Crimson status, thanks to their diligence and efforts throughout the year. The students were able to develop and

present a regional sales conference and competition, along with several great group activities like game night and other positive engagements, which, again speaks to the commitment they made to excellence as a group."
Outgoing AMA Ferris President Renae Schuetter, a Business Administration major from Manistique, said her involvement with the organization has been a valuable part of her university experience.
"Our slogan this year for AMA was 'shape the future,' Schuetter said. "For myself, this was extremely true. I improved my communication skills and leadership skills, and it opened many doors for me, including an internship this summer with Amazon in Seattle. I want to thank my executive board, along with Dr. Squires, for making it all possible. We placed higher than we have in a few years. Even with an all-virtual presentation, our chapter thrived."