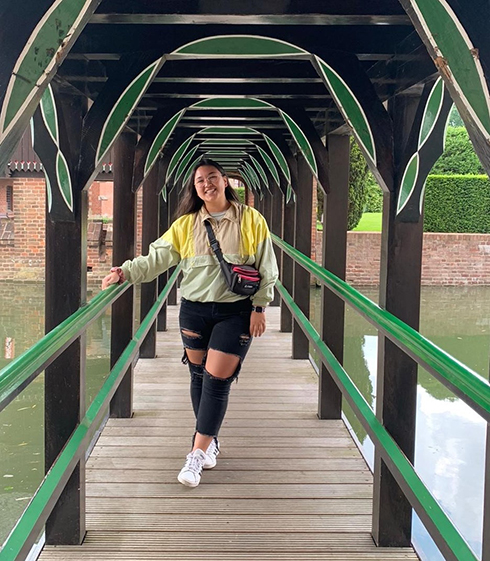 Cora Hall, the editor-in-chief of Ferris State University's student newspaper, will participate in a Sports Journalism Institute boot camp as part of a post-graduate series of events likely to enhance her journalistic opportunities.
Hall, who has worked for the Ferris State Torch throughout her time at the university, learned late last year that the Sports Journalism Institute selected her for the opportunity. She was one of 17 students chosen for a week-long virtual boot camp in May.
"The Institute is headed up by sports journalists with some of the country's top publishers and media corporations," Hall said. "I followed them and others on social media and have made a number of connections thanks to those contacts. The Sports Journalism Institute seeks to provide opportunities for women and minorities in journalism. So I am honored to have their support as I approach my professional goals."
Hall, a Lansing native who will graduate Saturday, May 1 with a Bachelor of Science in Journalism and Technical Communication, has covered Ferris athletic teams, written individual athlete features and other university-related stories at the Torch.
"We are not a large school when you consider all the Journalism programs across the country," Hall said. "I did have some concerns about my prospects, but I am thrilled that the Sports Journalism Institute has placed me in an internship with the Kansas City Star this summer, following the boot camp. I plan to do an investigative story on the disproportionate number of Asian Americans in collegiate athletic programs. That could wind up as a story in the Star, but as I develop this, it might be more appropriate for another publication."
Hall is the first Sports Journalism Institute participant from Ferris. The institute welcomed its inaugural class in 1993.
"Beyond my involvement with the institute, the Asian American Journalists Association is providing another great opportunity to advance on my desire to cover women's sports," Hall said. "Since my goals include becoming a contributor for publications like The Athletic or ESPN, being selected for the SJI's 2021 class is a great honor."
Don Yee, who represents National Football League quarterback Tom Brady and NFL Coach Sean Payton, created the Jimmie and Suey Fong Yee Fellowship to honor his parents. In March, Hall and University of Southern California graduate student Pranav Iyer learned that they, as fellows, will receive $1,000 awards to cover their registrations for the 2021 AAJA Convention and help meet costs related to research for their investigative stories.
The Asian American Journalists Association offers opportunities Hall seeks to embrace.
"The AAJA is a community that I hope to grow in as I enter and advance my career," she said. "Both organizations will have a hand in the publication of my story. Journalism is an exciting and, thanks to technology, a rapidly changing field. I really believe the association is worth my involvement and investment, so other young writers and broadcasters can benefit from that community."