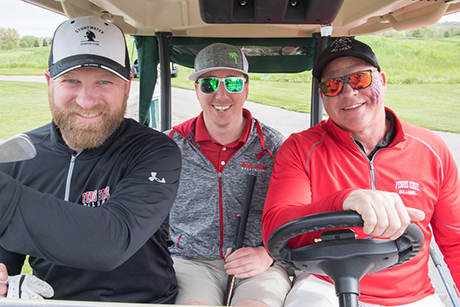 The 31st Ferris State University Alumni Golf Outing tees off at noon Friday, May 14, at Boulder Creek Golf Club in Belmont. The event marks the Alumni Association's first face-to-face, in-state gathering in more than a year due to COVID-19.
Director of Alumni Relations Brandi Behrenwald said the 30th annual golf outing was hosted Friday, May 17, 2019, at Thornapple Pointe in Cascade Township. She added that the opportunity to gather again with alumni and friends of the university is a thrill for her staff and Student Alumni Gold Club.
"There has been a great response for this outing, but we can still accommodate individuals or pairs who would like to join us at this great venue," Behrenwald said. "Those interested should contact our office as soon as possible, since we will cap the field at 36 teams this year, in the interest of participant health and safety."
Behrenwald said the response for sponsorships and other collaborations has been exceptional. Contributions help the Alumni Association achieve its goals to support Ferris students.
"All proceeds from the outing, beyond our costs for the event, are used to fund Legacy Scholarships," Behrenwald said. "We welcome inquiries about additional sponsorship opportunities to build on the success of what we can offer at Boulder Creek."
The golf outing itinerary includes practice range availability and registration getting underway at 10 a.m, then lunch and a "safe practices social hour" beginning at 11 a.m., ahead of the noon shotgun start. The event further includes a variety of on-course activities and entertainments, a dinner and an awards ceremony. Behrenwald said they are working with Boulder Creek's staff and their event crew to present a safe and satisfying experience for participants.
"We believe that the site for our 2022 outing, which will be announced that day, will delight everyone on hand," Behrenwald said. "A great deal of effort and planning has gone on to see that state regulations will be adhered to, and our participants will be offered dining, drawings and all those competitive elements that have made each of our outings a delight and success."
At the time of this story's production, Boulder Creek requires participants to wear masks in the clubhouse, restaurant and banquet area until they are seated. The registration deadline for the 2021 Alumni Golf Outing is Friday, May 7, or that point when 36 teams of four players is reached.