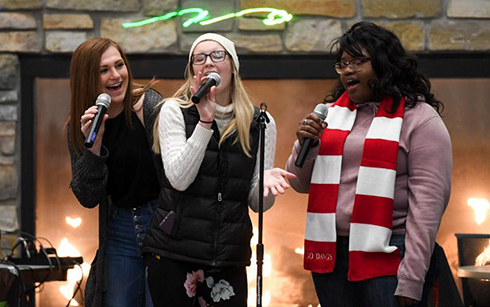 Karaoke confidence can grow on Friday, Jan. 17, during the University Center Anniversary Party, set from 9 p.m. to 12 a.m. with a variety of activities available throughout the UCB. CLACS staff and the Dean of Student Life office welcome students from across campus and throughout the university community to enjoy their schedule of events designed to transition into the Spring 2020 semester.
As Ferris State University's Spring 2020 semester begins, students will have ample opportunity to socialize and pursue specific interests along with their academics, thanks to programs organized by a variety of departments based in the University Center building.
The Center for Leadership, Activities and Career Services activity schedule will begin before the first day of classes, with a Disney Trivia event set for Sunday, Jan. 12. CLACS Assistant Kathryn Thomas said the questions and opportunities for prizes begin at 8 p.m., in the University Center ballroom, and their lobby serves as the venue for Snow Globe Mania, which will start at 1 p.m. on Monday, Jan. 13.
"We encourage students to stop by, even if they only have a moment, to pose for pictures in a life-size snow globe photo booth," Thomas said. "We will also have materials for students to make their own snow globes to decorate a desk or anyplace in their homes."
Thomas said that those interested in participating should check the CLACS Facebook Page or Bulldog Connect for more information on their schedule of events.
"There will be an activity to bring students together almost every day, regardless of how winter weather conditions might develop," Thomas said. "We hope those across campus, or students living nearby take part as we continue the academic year."
Dean of Student Life Joy Pulsifer expressed excitement about the Spring Registered Student Organization Fair, which will take place from 4 to 7 p.m. Thursday, Jan. 16.
"Please plan to join us at a new location this year, as the RSO Fair moves to the Student Recreation Center," Pulsifer said. "The fair is a great event that brings Ferris State together in celebration of student involvement."
University Center administrators and CLACS officials have the first Fridays At Ferris designed to delight students, as the UCB Anniversary Party runs from 9 p.m. to 12 a.m. Friday, Jan. 17.
"Laser tag has always been a favorite anniversary party element, and we worked hard to acquire a setup that was not available to us the last couple of years," CLACS Activities Coordinator Nick Smith said. "Participants will be able to play in teams, with large set pieces to hide themselves from opponents. We are glad to bring this venue back to a large area of the University Center Ballroom floor."
University Center Director Mark Schuelke said they seek to offer new activities and student favorites while providing snacks and prizes to satisfy their audience each year.
"Make-your-own street signs are very popular with students, so they line up to assure they will get their chance well before the party begins, at 9 p.m.," Schuelke said. "They submit their form, and our vendor produces the personalized sign, which includes our Ferris Bulldog logo. Live statues are another popular element. We are glad to be having them on site. There will be caricature artists, arcade games, karaoke, the chance to play skeeball and raffle drawings are set, each half-hour. Students might walk away with an Apple Watch or another great prize."
Pulsifer said they hope students share the excitement they feel regarding the coming semester on campus.
"Since the founding of Ferris, educating career-ready graduates has been central to our mission," Pulsifer said. "As you settle back into your routine, I hope you will be intentional in making connections with your peers, your faculty and our exceptional staff, who are here to support you. Every day at Ferris you will find meaningful experiences that can further your growth and development, help you explore new interests, and foster the skills and mindset needed for success in your professional field. We hope you will make this your best semester yet."
Those with disabilities who wish to attend the events in the University Center or the RSO Fair in the Student Recreation Center should email CLACS here or by calling (231) 591-2685.