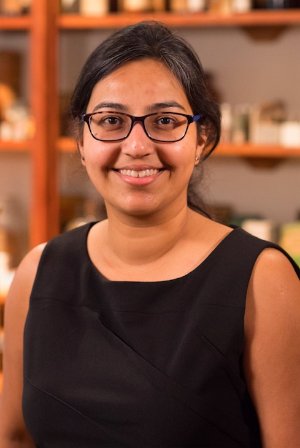 An associate professor of Medicinal Chemistry with Ferris State University's College of Pharmacy is studying novel anticancer agents supported by a $47,200 ADVANCE grant from the Michigan Economic Development Corporation's Entrepreneurship and Innovation Initiative.

"I am pleased to have the full support of Ferris' Office of Research and Sponsored Programs, and the Office of the Provost and Vice President of Academic Affairs for this project," Sonali Kurup said. "I am serving as principal investigator in this study, which is intended to take our synthesized molecules to a point where a larger research laboratory or start-up business can advance and potentially monetize our concept."
The award funding Kurup's research has a completion date of Feb. 1, 2021.

Kurup said that the preliminary data from her research of these agents was promising and motivated her to apply to the MEDC ADVANCE grant. The university matched the $23,609 granted by the MEDC for Kurup's effort to study "Small Molecule EGFR/AURK Inhibitors for Multi-resistant Lung Cancer." These financial resources will allow Kurup to pursue and identify compounds for multi-resistant cancers.

"We have four student researchers working on this project in the laboratory in the Pharmacy building currently. We also use instruments at the Shimadzu Laboratory for Academic and Research Excellence," Kurup said. "I intend to provide students training in areas of compound design, synthesis and evaluation."

Another current ADVANCE grant of $45,000 went to Daniel Taylor, Ferris' associate dean of academic and student affairs. Taylor is working with College of Engineering Technology students to create a cochlear implant device attached to an eyeglass frame to facilitate ease in use and removal throughout the day. A previous $61,500 MEDC ADVANCE grant award and mentoring assistance from the Technology Transfer Talent Network program came to Eric Nybo, in the College of Pharmacy. Nybo has led the research at Ferris into genetic engineering of anthracyclinone drug molecules. Nybo has initiated a three-year study to further this investigative work to support a $408,000 grant from the National Science Foundation. Kurup said that her two years of experience as a Ferris faculty include encouraging research activity and funding availability.

"Clearly, mine is not the first MEDC grant received. It seems the number of funded projects on campus is taking off," Kurup said. "Ferris is working on developing its research capabilities, which could spur more collaboration with major research hubs, like Michigan State University or the University of Michigan. In our current project, the hope is to create a compound that can be tested and patented if it shows promise."

Denise Graves, the university relations director for entrepreneurship and innovation programs with the MEDC, said that Ferris' projects are part of an encouraging trend in higher education, statewide.

"It is exciting to see faculty researchers at Ferris receiving awards through these programs, which were designed specifically for assistance in bringing key technologies to market," Graves said. "It is important to support this type of work at both large and small institutions, creating an opportunity for statewide collaboration and excitement for technology commercialization."

Ferris' 2020 research activity includes Pharmacy Professor Michael Klepser, who has begun a three-year, $150,000 study, funded by Michigan's Department of Health and Human Services. Klepser's pilot program will explore pharmacy-based testing of patients to monitor hypertension and dyslipidemia.

"Each of these grant awards is important, both for the sake of ongoing research efforts and their impact on establishing a stronger research base at the university," Kurup concluded.

Kurup also applied to the U.S. Patent Trade Office this year for compounds developed in her lab.

"That process is ongoing. It will likely be a while before its conclusion," Kurup said.

MEDC's Entrepreneurship and Innovation Initiative establishes Michigan as the place to create and grow a business by providing high-tech start-up companies with access to various critical resources, such as funding and expert counsel, from ideation to commercialization. There is greater detail about at MEDC Entrepreneurship and Innovation michiganbusiness.org.