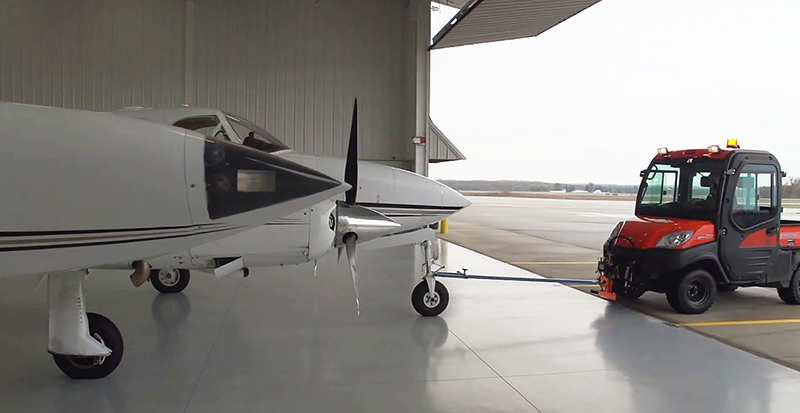 PHOTO CAPTIONS: Roben-Hood Airport, the general aviation facility owned by the City of Big Rapids was supported with an informational video, produced by students in Ferris State University's Television and Digital Media Production program. Seniors in TDMP 466, Instructional Design engaged in Academic Service Learning by working with municipal leaders, or university professors and administrators as appropriate, on these video projects.

Students in a Television and Digital Media Production course at Ferris State University produced videos during the Fall 2018 semester designed to assist college and campus-based initiatives, in addition to a project that examined the history, attributes and potential of a regional airport.
The Instructional Design course was taught by Professor Connie Randle-Morcom, in Ferris' School of Digital Media. The TDMP instructor said two-student teams were assigned to work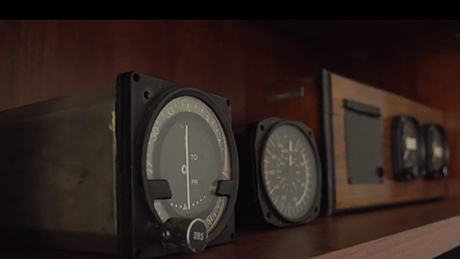 with professors in the colleges of Pharmacy, and Education and Human Services, the director of the university's Honors Program and administrators with the municipally-owned Roben-Hood Airport in Big Rapids.
"These videos were produced with an emphasis on Academic Service Learning so our students could connect more deeply with the content that was provided to their clients," Randle-Morcom said. "My experience has been that our TDMP students develop critical skills by collaborating with ASL partners as clients. It creates the opportunity to focus on the video subjects' needs and goals so that key stakeholders and communities can be better informed on these concepts. ASL projects provide meaningful learning experiences and service opportunities for our students, which they offer through creative video storytelling."
Aaron Harris, a senior in the TDMP program from Lansing, was project manager on "Roben-Hood Airport of Big Rapids: Tapestry of Flight," producing the video in collaboration with classmate Kaitlin Lovill, of Brighton. The airport, which enters its 90th year of operation, has sufficient property available to accommodate a longer runway, an improvement that would expand the scope of facility use. No plans have been announced for infrastructure upgrades at this time.
Harris said Airport Manager Steve Schroeder, the deputy director of Public Works for the city, asked the TDMP team to produce content that would highlight the facilities' current assets and attributes.
"It was a good experience, as we got to explore the social aspects of civil aviation, where plane owners fly into Roben-Hood just to have a cup of coffee in town and get a feel for the community," Harris said. "I had lived for quite a while in Big Rapids during my childhood, but learned a great deal about the airport through this collaboration with Schroeder, and airport administrative assistant Beth Ranger."
Harris said the production also focused on the commercial benefit, tourism support and other community attributes that are realized because of the airport.
"Spectrum Health maintains a hangar for their Aero Med medical transport helicopter at Roben-Hood, and there is a significant amount of business transportation that comes through the airport, which many people may not be aware of," Harris said. "I found that everything Kaitlin and I were able to explore and present was very interesting, something I could really connect with."
Lovill interned with Rusted Rooster Media to complete her TDMP requirements, and Harris will advance similarly toward his Bachelor of Science degree this summer, through an internship at Grand Hotel on Mackinac Island.
Other TDMP 466 projects from the Fall 2018 included:
"Ferris State Pharmacy: The Importance of Antibiotics," which was produced by Danielle Will, of Saginaw, and David Wee, of Royal Oak. Their ASL partner was Pharmacy Professor Michael Klepser, with the video intended to increase awareness among college students on the effects of antibiotic use.
"To Teach," "The State of Education" and "The Importance of Education," by Garret Morgan, of Lansing and Ahmed Alghamdi, of El Bahah, Saudi Arabia. The School of Education ASL partners were associate professor Vanessa Wyss and assistant professor Brady Flachs. The three-part series considered the education system in the United States, with a focus on enrollment and was intended to encourage viewers to enter the field.
"#analytics4academics," which was produced by Kaleb Vinton, of Greenville, and Andrew Waltman, of Grand Rapids. They worked with Honors Director Peter Bradley on the message that identified social media usage as a method to communicate with current and prospective students.