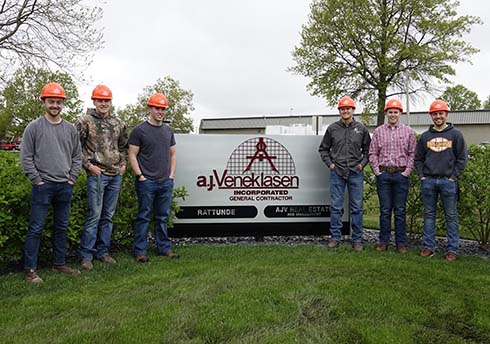 GRAND RAPIDS – A Grand Rapids-based general contractor has offered glowing reports about its relationship with Ferris State University's Construction Management program, as a.j. Veneklasen has entered its second summer providing students paid internship opportunities.
Jackie Olson, AJV's senior human resource generalist, said that the company approached Ferris' Center for Leadership, Activities and Career Services before the 2018 Career and Internship Fair, hoping to establish a program that would benefit Construction Management students in various stages of their degree pursuits.
"AJV decided to establish this internship program with the university since we already have a number of Ferris Construction Management graduates on our staff," Olson said. "From that first group of interns, in 2018, Marta VonHoltz, from Holland, has joined our staff as an assistant estimator and Connor Taminski, of Ludington, is one of AJV's newest hires as an assistant superintendent. There were four interns from Ferris, last summer, and we decided after this year's fair to welcome in six students."
This summer, Olson said that Alex Utecht, of Falmouth, and Parker Rayneart, of Sanford, are involved in general trades or construction work; Tyler White, of Hersey and Easton Dutkiewicz, of Howell, are supporting steel construction on AJV projects; and Greg Park, of Reed City, and Hayden Schmidt, of Rockford, are serving as assistant superintendent interns.
"We offer our interns positions that range from labor to management, based on where they stand in pursuit of their degree," Olson said. "We have been very impressed with this group's work ethic and knowledge of construction."
Ferris has hundreds of students, annually, who gain valuable career experience through participation in internship programs. A recent report showed that 70 percent of those Ferris students earning a bachelor's or other advanced degree program completed an internship related to their fields.

MEET THE INTERNS HOMEPAGE