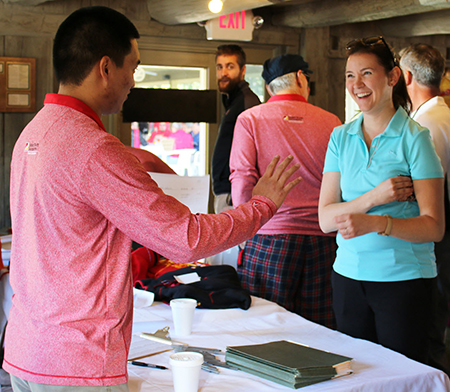 A fun time in Frankenmuth has been arranged for alumni and friends of Ferris State University, as the 29th annual Alumni Association Golf Outing will be held on Friday, May 11 at The Fortress Golf Course.
Brandi Behrenwald, director of Alumni Relations, said the registration deadline of Tuesday, May 1 is fast approaching and participants will enjoy the event's return to a challenging course, supervised by The Fortress head professional and 2009 Professional Golf Management alumnus Kyle Martin.
"We would like to wrap up filling those remaining team spaces," Behrenwald said. "Bringing the event to Frankenmuth, last year, gave us a nice response in participation from our alumni in central and southeast lower Michigan. At this year's event, we will be announcing the location for our 30th annual outing."
The Alumni Association also saluted the sponsors who help provide practice range access, beverage service on the course, tee boxes and carts for players.
"The sponsors include some of our participants on the course along with others who do not play in the event along with vendors who support us at this event and other times during the year," Behrenwald said. "Their contributions are an important part of an enjoyable and successful outing."
Registration begins at 10 a.m., with participants receiving complimentary practice range access. A luncheon will be served at 11 a.m., with instructions to players offered prior to a 12 p.m. shotgun start. Players will be provided tournament apparel, along with a dinner buffet at 5 p.m. where a number of raffle and prize winners will be determined. Behrenwald said the outing serves as an important fundraising resource for the Alumni Association.
"The Alumni Legacy Scholarship endowment is supported by the proceeds from this event," Behrenwald said. "That is a key component to our ability to support Ferris students who meet the qualifying criteria. In 2017-18, we made $34,500 in awards to 27 students."
Those interested in participating in the 29th annual Alumni Association Golf Outing are encouraged to register online for the event.


PHOTO CAPTION: A 144-player field is expected for the 29th annual Ferris State University Alumni Association Golf Outing on Friday, May 11. The event returns for a second year to The Fortress Golf Course in Frankenmuth.