Ferris State University students gain valuable work experience through internships. Internships also can confirm or redirect career decision-making, provide marketability, develop people skills and enhance classroom learning. Many academic programs require one, but the experience is encouraged regardless to provide students with a better understanding of what will be expected of them in the workplace.
Many students are participating in myriad internships this summer. Meet: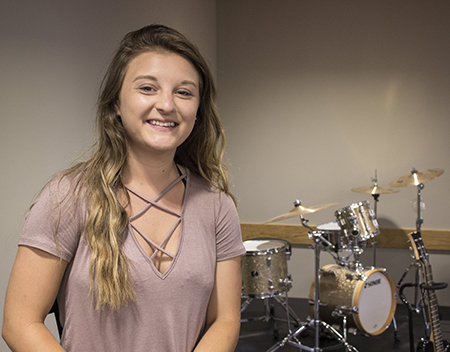 Lacie Tryan
She is: A senior from Perkins, Michigan (north of Escanaba,) entering her final term before graduating with a Bachelor of Science in Music Industry Management.
Her Internship: Lacie became a junior agent with Degy Entertainment, a Boca Raton, Florida-based booking agency. "Degy works with colleges for planning a major event on campus. Last March, I worked with Degy for the Frankie Ballard and A Thousand Horses concert on Ferris campus. They were there to help our programming board through every step of planning the concert including artist pricing, marketing, advancing the show, designing the offer sheet, and more. I am working with one of the Degy agents and responsible for contacting potential clients to expand their markets. I am also mirroring how to complete a pitching and booking process. It is a really neat opportunity for me to have this position, because I am able to see 'the other side' of the company. I worked with them on the student side and now as an agent."
Any Previous Internships?: "My first internship was with Midwest Communications, a radio station group, in Green Bay, Wisconsin. I actually got this internship on my own. I knew one of the radio DJs from going to Country USA, in Oshkosh, Wisconsin. I reached out to her to ask if she knew of any internships available at the station and I was quickly offered a position. Throughout the summer of 2016 I was a promotions intern. I was able to go to various events and a couple festivals promoting the local stations. I was also able to learn about different departments at the station, including programming, traffic and billing, audio production, music research and more."
Advice to Other Students Seeking Internships: "Networking is important. I secured both of my required internships by knowing someone."
Other Groups/Activities At Ferris Lacie was a Ferris State Orientation Leader in the summer of 2017, and is serving as Comedian and Finance Chair for the 2017 Student Homecoming Committee. Previously, she was Entertainment Unlimited's Programming Coordinator in 2016 and the Hospitality Co-Head for Music Takes Action, in 2016, before becoming Head Coordinator for the event this year. Lacie also was a general member of the Music Industry Management Association and a member of the National Society of Collegiate Scholars.
Ferris Core Value Lacie Relates to: "Opportunity. Ferris has given me many opportunities to grow as a leader. I have been able to apply my school work in a real-world setting, by being involved on campus and enhancing my resume. I have gotten so many compliments from potential employers about my resume, simply because I was active in college and took advantage of opportunities to further my career."

PHOTO CAPTION: Lacie Tryan, a senior in Ferris State University's Music Industry Management program, was an intern with Degy Entertainment, based in Boca Raton, Florida. She has moved into a role with the corporation as a junior agent.