Ferris State University students gain valuable work experience through internships. Internships also can confirm or redirect career decision-making, provide marketability, develop people skills and enhance classroom learning. Many academic programs require one, but the experience is encouraged regardless to provide students with a better understanding of what will be expected of them in the workplace.
Many students are participating in myriad internships this summer. Meet: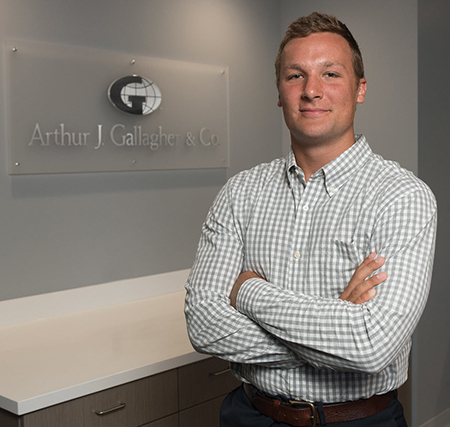 Mitch Maloney
He is: a senior in Finance from Macomb, Michigan. Mitch completed an internship this summer with AJ Gallagher, an Illinois-based global insurance brokerage and risk management services firm, in their Grand Rapids office.
What he Learned During His Internship: Mitch shadowed sales executives on client and prospect meetings, researched prospective client meeting and investigated their possible future plans, participated in e-learn and webinar sessions related to the industry, and interacted with key company clients.
How Ferris Helped Him Get the Internship: "Mr. Kwant did a great job assisting me with outreach to companies. He helped me structure these contacts in a professional manner, and I secured an interview. After two contacts with AJ Gallagher, I was able to lock down the position."
Other Activities: Mitch is approaching his senior season as a forward on Ferris' NCAA Division I hockey team.
Ferris Core Value Maloney Relates To: Opportunity. "Before I applied for this internship, I had no experience or interest in the insurance field. By looking for opportunities, I was able to secure this internship and was offered employment after graduation. This is something I am grateful for."
Making A Difference at His Internship: "Just by having a positive attitude and work ethic, I offered to help wherever I could. I have worked on multiple Excel files, due to the training I received in my major. By bringing the right attitude, coworkers are much more willing to teach you and help you out. I was able to work on multiple sales pitches, by crunching the numbers necessary for the final premium."



PHOTO CAPTION: Finance major and Ferris State University hockey player Mitch Maloney, from Macomb, Michigan recently completed an internship with AJ Gallagher, a global insurance brokerage and risk management services firm, at their Grand Rapids office.