Ferris State University students gain valuable work experience through internships. Internships also can confirm or redirect career decision-making, provide marketability, develop people skills and enhance classroom learning. Many academic programs require one, but the experience is encouraged regardless to provide students with a better understanding of what will be expected of them in the workplace.
Many students are participating in myriad internships this summer. Meet: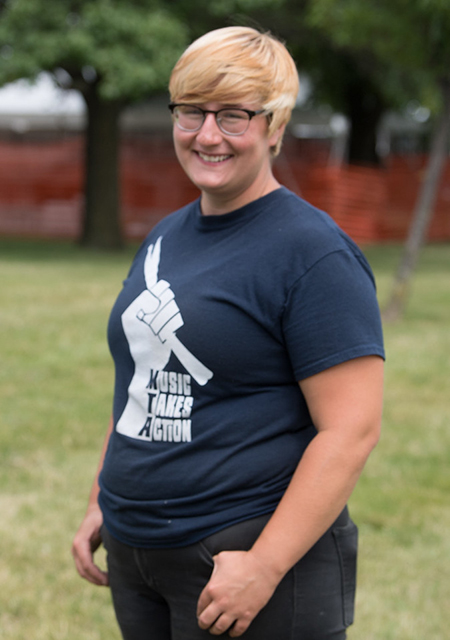 Jaclyn Lecznar
She is: a senior in Music Industry Management from Madison Heights. Jaclyn is preparing to graduate with her Bachelor of Science degree in December.
Her Internship: Jaclyn joined fellow MIM students Kenzi Szymanski and Katie Henderson, serving as interns with GCS Audio, a production company based in Warren, Michigan. "I learned about the ins and outs of audio production, and what it takes to put on a live show, or concert. I learned about the type of equipment used in live concert production, how to professionally set up equipment for live shows, and a bit about the different mixing boards the company owned. I also learned a tiny bit about music festivals and all the time and effort put into putting them together, and planning them."
How Ferris Assisted in Securing Her Internship: Jaclyn is a member of the Music Industry Management Association, a registered student organization on campus. "That helped me out significantly, with the securing of my internship at GCS Audio. Through the RSO, we put on shows where we are able to get hands on experience, through positions such as stage crew, promotions, sponsorship, etc. I've secured a couple of stage crew positions for various shows we've done and gained valuable experience that I utilized while working for GCS."
Future Plans: Jaclyn hopes to find work behind the scenes in her field, presenting shows. "I hope to do something with live audio production in the future, but I am also thinking about technical theatre, and dabbling with audio in that realm." Jaclyn said she expects to serve a second internship, following her graduation from Ferris.
Advice for Fellow Students Seeking Internships: Seek out opportunities to gain experience. "Volunteer for things, meet people and make connections. Most internships are unpaid, but the experience you gain from them is priceless, so keep a good attitude and work hard."
PHOTO CAPTION: Jaclyn Lecznar, of Madison Heights, Michigan, completed an internship with GCS Audio of Warren, Michigan, as part of her pursuit of a Bachelor of Science degree in Music Industry Management from Ferris State University.