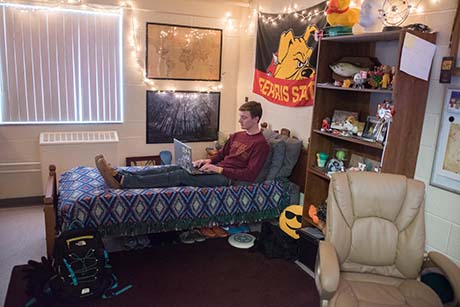 GRAND RAPIDS – Ferris State University students who live on campus will see no increase in housing or dining rates for the 2018-19 academic year. The Ferris Board of Trustees approved a zero-percent rate increase for the 2018-19 housing and dining rates at its regular meeting on Friday, Oct. 6, at the Woodbridge N. Ferris Building in Grand Rapids.
Jerry Scoby, vice president for Administration and Finance, spoke about the decision not to increase room and board rates for the 2018-19 academic year. Scoby cited a few key factors: helping students, focusing on affordability and minimizing student debt.
"We are pleased to not raise our room and board rates for the 2018-19 academic year," Scoby said. "This is being done to help students and their families afford a great Ferris State University education while keeping their student loan debt as low as possible."
The board further approved a final general fund operating budget, $211.5 million, and a final housing/dining budget, $32.6 million, for the 2018 fiscal year.
Further, the board approved a FY 2019 capital outlay project request for a Center for Virtual Learning. Each university is asked to submit its one top-priority project within the context of a five-year capital outlay planning document, as prescribed by the state. The total estimated cost, for the 100,000-square-foot facility, is $29.5 million. The facility will create a physical location to bring together the University's online education efforts, while providing program development support and preparation for faculty engaged in virtual education. The center, on the Big Rapids campus, would house academic programs incorporating a significant virtual learning component that are in need of a modern facility, such as: Digital Media, Information Systems and Intelligence, Career, Technical and Teacher Education, and Criminal Justice.
In other board action, trustees approved the Ex Libris Alma library services platform and PrimoVE discovery service to replace existing services. The five-year agreement includes the subscription-based service and regular updates. Alma and Primo, in use at Ferris since 2013, are built on a more modern system architecture, are cloud-hosted. This would eliminate the need to replace four physical servers that are several years old. It would further add much-needed new functionality including greater system integration, electronic resource management and analytics.
The board approved the naming of the newly-renovated sterile preparation room in the Hagerman Pharmacy Building as the "The Dr. Roger W. and Elizabeth Marks Anderson Family Sterile Room and Educational Center." The naming is in honor of Roger W. Anderson, a Class of 1964 College of Pharmacy alumnus, and his wife, Elizabeth Marks Anderson. Their shared vision for the development of a state-of-the-art sterile room, within the college, is that it would provide student pharmacists with advanced training in preparation of sterile products within a sterile environment.
Trustees granted approval for professional services related to brand strategy assessment, planning and implementation. The University Advancement and Marketing division has planned a comprehensive assessment of current university branding and marketing strategies and to develop and implement recommendations for an enhanced brand strategy that will build on existing efforts to favorably distinguish Ferris from other colleges and universities. Once a firm is selected, the university will partner with the vendor from Nov. 1, 2017 through Nov. 1, 2018.
In other action, trustees approved:
support of Kendall College of Art and Design of Ferris President Leslie Bellavance's request to engage a media group to develop actionable digital marketing strategy, manage the purchase and placement of said advertising, for KCAD, as well as monitor the return on this advertising investment, overall;
the Charter Schools Office's request to enter into an agreement with the Francis Young International Company, based in Highland, Michigan, to ensure that students are receiving the proper services afforded them by law and to assist our academies in keeping abreast of their responsibilities as required by law. The CSO proposes to analyze the special education programs of each of the FSU-authorized academies. The FYI Company provides a continuum of special education supports throughout the country, including Arizona, Illinois and New York;
ratification of collective bargaining agreements with Unit I, non-supervisory Ferris Public Safety officers, affiliated with the Police Officers Labor Council, Unit II, supervisory officers, affiliated with the POLC and AFSCME Local Union 1609 and Michigan Council 25, American Federation of State, County and Municipal Employees, AFL-CIO; and
four appointments to the boards of directors of Ferris-authorized charter school academies.
The trustees are chair Paul E. Boyer, of Ada; vice chair Lori A. Gwizdala, of Bay City; secretary Ana L. Ramirez-Saenz, of Grand Rapids; immediate past chair Gary L. Granger, of Byron Center; Robert J. Hegbloom, of Clarkston; Amna P. Seibold, of East Grand Rapids; Rupesh K. Srivastava, of Wixom; and LaShanda R. Thomas, of Grosse Pointe.
The next regular meeting of the Board is Friday, Dec. 15 in Big Rapids. Committee meetings begin at 3 p.m. followed by the 4 p.m. full board meeting.


PHOTO CAPTION: Ferris State University students will see no increase in housing or dining rates for the 2018-19 academic year.