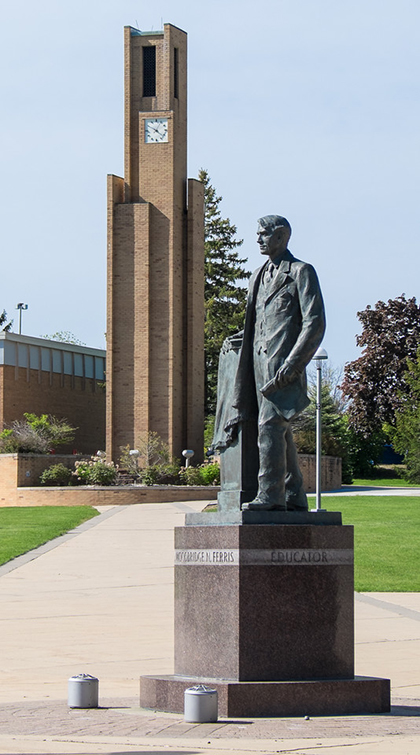 Ferris State University's Board of Trustees approved three new academic programs during its regular meeting on Friday, May 5 in Big Rapids. A Bachelor of Science in Biochemistry, an Associate in Science in Natural Science and an Associate in Arts in Integrative Studies will be available at the start of the Fall 2017 semester.
Provost and Vice President for Academic Affairs Paul Blake is enthusiastic about the new degree offerings. The addition of the new College of Arts, Sciences and Education bachelor's degree is based on employer demand and is expected to make Ferris graduates more marketable to employers.
"The Bachelor of Science in Biochemistry serves as a complement to the Bachelor of Arts in Biochemistry, but with more of a technical focus that is inclusive of additional requirements in areas such as biology, chemistry, mathematics and physics," Blake said. "This is certainly a win-win for our students."
The Natural Science associate degree will prepare students to enter any natural science-based bachelor's program, while the new Integrative Studies associate degree was developed in response to employer need for graduates who can communicate effectively, work collaboratively, problem-solve, learn on the job and make connections. The degree also fulfills the bachelor's-level general education requirements for students who may elect to complete a four-year degree.
"Both new associate degrees provide students with the opportunity to make more informed choices for themselves as they look toward their academic and professional goals," Blake said.

Trustees also approved the naming of the future PGA Golf Management Learning Center in honor of the late Ken Janke Sr., the retired chairman and CEO of the National Association of Investors Corporation and co-founder of the Michigan Golf Hall of Fame. His son, Ken Janke Jr., the executive vice president, treasurer and head of corporate finance and development at Aflac Inc., and his wife, Kim, made a significant gift to the PGA Golf Management Learning Center campaign for a new facility at Katke Golf Course. In addition to its academic value, the future center will also serve as the new permanent home of the Michigan Golf Hall of Fame.
"We are so thankful to Ken and Kim Janke for their very generous gift and for their thoughtfulness in honoring Ken Sr.'s memory and his many contributions to the game of golf. Their support of a new indoor teaching and practice center at Ferris' Katke Golf Course will help make our vision of year-round golf training and instruction a reality," said Shelly Pearcy, vice president for University Advancement and Marketing.
In addition, trustees approved a preliminary 2017-18 general fund operating budget of more than $212 million, which includes an overall average resident, undergraduate tuition increase of 3.77 percent. This includes a lower-division increase of 3.57 percent, to $406 per credit hour, and an upper-division increase of 3.97 percent for an undergraduate rate, to $419 per credit hour. The budget also includes a 2.5 percent increase in student assistance aid. Institutional aid to students has increased from $13 million, during the 2008-09 academic year, to $24.6 million in the upcoming academic year. Trustees also approved a preliminary 2017-18 housing and dining budget of $32.6 million.
In other action, the trustees approved:
Kendall College of Art and Design's recommendation to enter into an agreement with TowerPinkster to develop a facilities master plan for KCAD's campus, including the Kendall building, at 17 Fountain Street NW; the Woodbridge N. Ferris Building, at 17 Pearl Street; and the Urban Institute for Contemporary Arts, at 2 Fulton West;
The administration's request to fund renovations to the Student Recreation Center to address the aesthetic, functional and programmatic needs of the facility;
Three new members of The Ferris Foundation's Board of Directors: Susan K. Jones, a Ferris professor of Marketing in the College of Business; alumnus Kenneth A. Kuk, a professor of Welding Engineering Technology in Ferris' College of Engineering Technology; and alumnus Luke Wyckoff, founder and chief visionary officer of Social Media Energy and founder of the executive search firm, Wyckoff Consulting;
The Office of Extended and International Operations' request to expand its offering for the Doctorate in Community College Leadership program. The board approved a new site for the DCCL program at Lone Star College in The Woodlands, Texas, located in the greater Houston area.
The five-year capital renewal and deferred maintenance phase three plan. Approximately 44 percent of campus buildings and 70 percent of the utility infrastructure is in the range of 30-to 60-plus years old. Later, in 2017, the university plans to conduct an updated facility and infrastructure assessment. This board approval is for the upcoming fiscal year, 2018; and
Five reappointments and six reappointments to the boards of directors of FSU-authorized charter school academies.
The trustees are chair Paul E. Boyer, of Ada; vice chair Lori A. Gwizdala, of Bay City; secretary Ana L. Ramirez-Saenz, of Grand Rapids; immediate past chair Gary L. Granger, of Byron Center; Robert J. Hegbloom, of Clarkston; Amna P. Seibold, of East Grand Rapids; Rupesh K. Srivastava, of Wixom; and LaShanda R. Thomas, of Grosse Pointe.
The next regular meeting of the Board is Friday, Oct. 6 in Grand Rapids. Committee meetings begin at 10 a.m. followed by the 11 a.m. full board meeting.