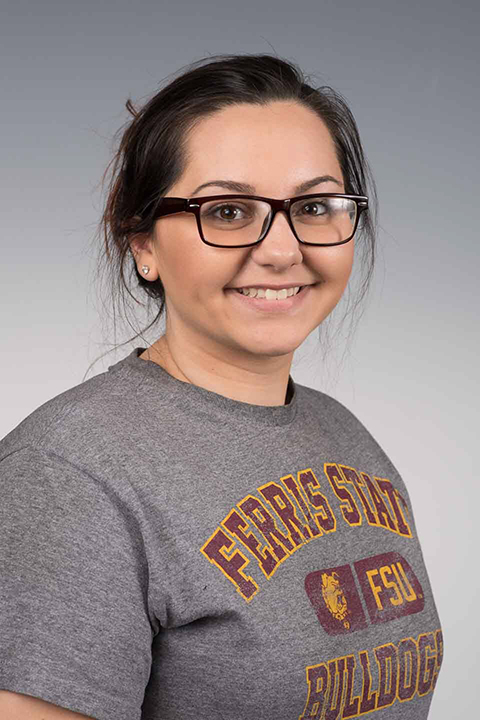 Successfully navigating the graduation requirements for a Bachelor of Science degree can help a university student develop the focus, and emotional strength to meet personal challenges that arise in their later life. Katie Thornsberry, of Lapeer, will participate in Ferris State University's College of Business commencement ceremony on Saturday afternoon, May 6, to receive her diploma for her Public Relations studies being proud of the accomplishment, but reflecting on an adolescence and early childhood that presented tragic circumstances, which had already endowed her with strength and confidence.
"My father, Jerry, had been diagnosed with colon cancer while I was in the seventh grade," Thornsberry said. "After several years of treatment cycles, which included chemotherapy and radiation, he decided to discontinue that care during my junior year at North Branch High School. My father passed away in February 2013, as I was preparing to graduate."
Katie was one of six children in the family and had lost a brother, Ken, to multiple sclerosis, when she was in the ninth grade.
Jerry Thornsberry had been on disability for rheumatoid arthritis, for some years, before his cancer diagnosis, which limited the family's ability to meet financial demands that had resulted from their medical bills. Katie said their move to a new home, following her father's bankruptcy declaration, did not produce the results her family hoped for.
"The new home flooded that year, which we learned later, was a recurring event at that property, and this had presented various problems over its history," Thornsberry said. "While I was going through my graduation, at North Branch, we had to move out, and relocated to my aunt's home, on my father's side."
She developed an interest for, and attraction to Ferris, well before these life-changing developments occurred.
"I did a career assessment in sixth grade, which indicated I had an aptitude for Sonography, so I considered becoming an ultrasound technician," Thornsberry said. "I always had Ferris on my mind as a destination for my education, and I started out in that program when I came to the university."
She also arrived with a focus on excellence, and accomplishment, which was nurtured by conversations with her father.
"Dad always emphasized the importance of good grades, and had me convinced that I should begin my college studies as soon as I graduated high school," Thornsberry said. "None of my siblings had made that progression, so I was ready to follow through for his sake, and work steadily toward my degree."
That focus on excellence saw her receive the Ferris Gold Scholarship, which provided $2,000 a year for each of her four years, as an undergraduate.
When Thornsberry assessed her early studies, she decided to make a change in programs, seeing the move to Public Relations as an opportunity for growth and success.
"My life circumstances have been difficult, but I have developed a mindset that any struggle was not going to get me down," Thornsberry said. "I felt that my abilities, as a writer, and with communication, in general, were well matched with Public Relations, and a conversation with program coordinator Patrick Bishop gave me the confidence to make the change."
She also developed support systems on campus with encouragement from her freshman roommates, in McNerney Hall, and a welcome from a registered student organization.
"Not many of my peers, from North Branch, came here. None of them were girls," Thornsberry said. "The Public Relations Student Society of America chapter was most welcoming. I have had a lot of support along the way."
She served as the social media manager for PRSSA-FSU during the 2015-16 academic year.
She also found her skills, as a communicator, helpful over three years working in the Annual Giving program, which is part of Ferris' University Advancement and Marketing division.
"Calling on alumni, hearing their stories about their time at Ferris and giving them that pitch gives you a lot of background information," she said. "I believe it will be beneficial in my Public Relations pursuits."
Thornsberry spent her last year with the Annual Giving staff as a student supervisor, which had her involved in hiring fellow employees, training new staff and prepared to support potential discipline procedures.
Following her graduation, Katie will begin an internship with Allied Integrated Marketing's office, in Bloomfield Hills, which will involve promotions for major motion pictures and other client services. Thornsberry acknowledges the Detroit area is a different environment than North Branch, at home with her mother, Janet, in Lapeer, or Big Rapids.
"It has been a weird feeling to come to the end of having Big Rapids as part of my identity, kind of a big shock to break from my friends and familiar places, but I am excited for it," she said. "I think the entertainment side of Public Relations is the most appealing career path, and I hope that my internship can provide the chance to pursue those avenues further."
Her family lives in southeastern Michigan, and, while Katie enjoys what summertime in the state can offer in terms of recreation, she is anticipating change in her surroundings, most likely in an urban area.
"I am ready to consider whatever opportunities present themselves as I begin my professional career," Thornsberry said. "While little things can slow me down for a moment, I know I can work past them, and continue toward my goals."


PHOTO CAPTION: Katie Thornsberry, of Lapeer, Mich., will graduate from Ferris State University's College of Business in a ceremony that will take place Saturday, May 6 in Big Rapids.