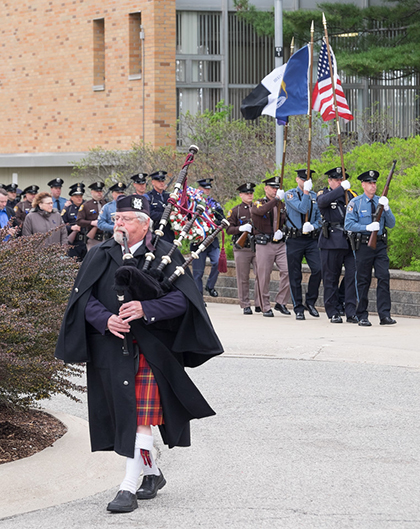 People of all ages will gather outside the Ferris Library for Information, Technology and Education (FLITE) on Tuesday, May 9 at 9 a.m. for the university's 14th annual Police Memorial ceremony.
"Each year we welcome a crowd that includes students from our area schools who have are able to participate in the Police Memorial," Ferris State University Department of Public Safety Director Bruce Borkovich said. "The Police Memorial is an opportunity for the university, the community and law enforcement from around the area and the state to come together on our campus. This is not just Ferris' police department taking part, as all aspects of the operation, and our university support the program and attend the event."
Officers representing local, county, state and federal departments will join Ferris' contingent at the memorial. The traditional program includes an honor guard, a 21-gun salute, the playing of "Taps," lowering the U.S. flag, and the placement of a wreath.
In addition to honoring fallen police officers, some of whom are are Ferris alumni, this year's ceremony will pay special tribute to Ferris alumnus Collin Rose, a Wayne State University Police Department K-9 officer, who was killed in the line of duty on Tuesday, Nov. 22, 2016.

President John F. Kennedy created National Peace Officers Memorial Day in 1962 by proclamation, with May 15 designated as the day of remembrance. Ferris and its local law enforcement partners are among several groups holding Police Memorial ceremonies prior to National Police Week 2017, which is May 14-20.
The FLITE Building is located at 1010 Campus Drive in Big Rapids. The annual event is free and open to the public, with an opportunity to meet with officers in an adjacent parking lot following the event.
More information is available by calling the university's Department of Public Safety at (231) 591-5000.

PHOTO CAPTION: The 14th annual Police Memorial ceremony will be held outside Ferris State University's FLITE building Tuesday morning, May 9.