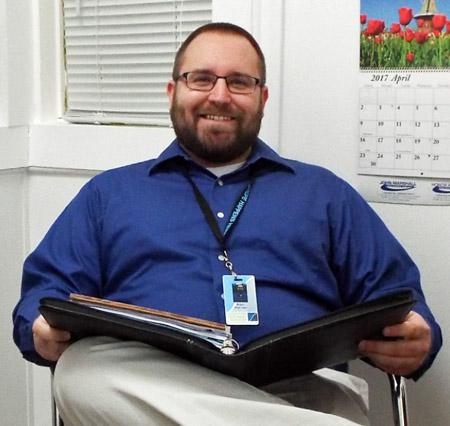 The path graduates took to reach the stage at the start of Ferris State University's commencement ceremonies Friday evening, May 5, in Big Rapids, represented varied and involved routes. Brian Majszak, of Traverse City, received his second diploma from the College of Arts, Sciences and Education, earning a Master of Social Work, after winding through other states, continents and conflicts, including a struggle with post-traumatic stress disorder.
Brian was a contemplative youngster in northwestern lower Michigan, graduating from Traverse City West High School in the late spring of 2001, with his next steps in life somewhat undefined.
"When I was younger, I found a fascination with psychology, but I never imagined going on to school," Majszak said. "I joined the military later that summer, because I didn't know what I was going to do with my life. I did know I would have greater opportunities available through my military benefits."
Brian's choice to join the U.S. Army, and assist in the supply side of service operations, took significant turns as his military service began.
"I had joked that war would break out as soon as I got into military service," Majszak said. "The attacks on Sept. 11, 2001 came while I was in basic training."
Brian settled into the service at Fort Polk, La., with A Troop, which is part of the 1st Squadron of the 2nd Armored Calvary Regiment. His duties involved providing the materials to those in his troop who would be called upon to provide security, a police action response or resistance, as situations merited.
"We were called to Baghdad early in April of 2003," Majszak said. "It was right after the invasion of Iraq. Working in supply meant that we not only had to meet the material needs of our troop, but we had to keep them motivated. I didn't see the worst of it, but I would go into the city and trade with Iraqi street merchants to search out hard-to-find items that would help our soldiers feel comfortable and confident."
Approximately one year later, on April 4, 2004 Army patrols who were escorting sewage trucks in the Sadr City section of Baghdad were ambushed on what was known as "Black Sunday," which Majszak said proved to be a turning point in their 16-month tour.
"We were hit hard, (media reports indicate eight soldiers were killed and 60 were wounded) and that brought on an extension of our tour," Brian said. "Our service changed from a general police effort, to a greater level of conflict."
Those next few months saw the 2nd Armored Calvary Regiment involved in retaking areas that insurgents had claimed, and Majszak said supporting those in battle took a toll on their fighting forces, and himself.
"Many of my bad memories come from the struggle to stay alive and stabilize those areas," Brian said. "It has left me with PTSD."
He was among those who returned to Fort Polk in July 2004, and Majszak decided to end his active duty in the military, though he would later serve two years in the Army Reserve and two years with the National Guard.
"I was affected by the political uproar about our presence in Iraq, and my own condition," Brian said. "I became something of a wanderer, never staying in one place for very long. Wherever I was, I found I need to frequently change around the furnishings in my home or make other adjustments just so I could find some comfort."
After some time, Majszak returned to Traverse City and made the decision to begin studies at Northwestern Michigan College, signing up within a couple of weeks before his first term.
"I wasn't sure at first what to pursue, and was taking some Business classes," Brian said. "I was taking some elective courses in Psychology, and professor Sean Ruane at NMC suggested that Ferris' Social Work program would provide me an avenue to get involved in counseling."
Associate Professor Janet Vizina-Roubal related that Majszak had some confidence issues as he began his Bachelor's-level curriculum, but found a way to compensate.
"In one of his first classes, he proudly stated that he was going to be a terrible student," Vizina-Roubal said. "I believe he started his evolution into becoming a professional social worker began that day, as he took himself, his mental health and his education more seriously."
Majszak made the dean's list in two of his final three semesters, before graduating from the BSW program in December 2012.
"Improving my Social Work skills has helped me become a better person," he said. "I had a good relationship with my professors, including Janet. I have felt so much support, as when I am sick or just 'not ready to go,' due to my condition, they have been supportive and understanding in every case. Ferris has helped me hone abilities, which I will be happy to pass along to others."
Majszak began working in a program assisting homeless veterans, as well as securing foster care for children. That meant supporting between 250 and 300 clients a year, in a 22-county region.
"This was mostly case management work, but I had my eye on becoming involved as a therapist, rather than arranging for services," he said. "I wanted to move toward helping clients, particularly veterans, to reconcile their thoughts, beliefs and emotions."
Majszak kept abreast of Ferris' intention to offer Master of Social Work classes at NMC in Traverse City, and recognized it as a means to nurture his talents as a listener, with humility and compassion for his clients.
"I had a jovial, light-hearted peer, who had lost all of those feelings due to his military service," Brian said. "He remains a focal point in my desire to help people who will be forever impacted by their experience. The way I figure it, who better to help someone who is working through the same kind of issues?"
Majszak's pre-graduation internship found him at Addiction Treatment Services, in Traverse City, where he meets with clients from a variety of backgrounds.
"Everyone here is struggling with their recovery from dependence on drugs, or alcohol," Brian said. "I was concerned about working with non-veterans, but I found that I can manage that. Many vets are users, in their efforts to adjust and cope. It's very real."
Majszak is aware that though he is qualified as a Master of Social Work, there is more to do to achieve his goal of becoming a therapist with the Veterans Administration.
"I will need to secure additional licensing and have broader experiences in the Social Work field," Brian said. "I want vets to have the best and I recognize it will take me some time to get there."
Beyond this feature on his personal journey and studies, Ferris President David Eisler contacted Majszak, gathering the information necessary to tell his story, which will be included in a Spring 2017 commencement address. He was taken aback by these requests.
"I only hope that other vets can recognize their own opportunity to pursue reaching their potential, following military service," Majszak said.