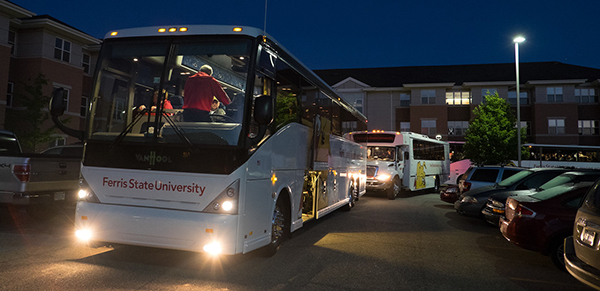 PHOTO CAPTIONS: (Above) Buses are shown here in the early-morning hours preparing to take the Mid-Michigan Honor Flight veterans and supporters to the airport. This was during a past Mid-Michigan Honor Flight event initiated at Ferris State University. (Below) Images from inside The Rock Café on Ferris' Big Rapids campus.

Approximately 60 veterans of the United States military will participate in a tour of Washington, D.C., as part of a Mid-Michigan Honor Flight excursion that begins on Ferris State University's main campus, in Big Rapids.
The trip, which will see World War II veterans begin their journey in the early morning of Tuesday, May 23, is an involved process, according to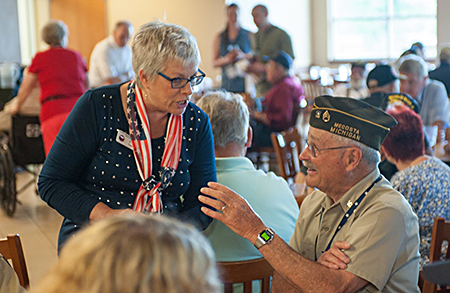 Athletic Camps Coordinator Gary Wendlowsky, who is a Mid-Michigan Honor Flight Board member.
"Each of the veterans on Mission VII of the Honor Flight will travel with a guardian, and we also have medical staff, in a potentially supportive role, as part of our group," Wendlowsky said. "Many departments across the university collaborate on presenting the Honor Flight, and each of these operations gives their all to assure that the soldiers, sailors and servicemen are well cared for."
Wendlowsky said there is also an Honor Flight based out of Traverse City that departs each fall, and Ferris' involvement with the program began in June 2014, by hosting a cohort of veterans. The circle of participants is growing, due to a number of circumstances.
"When we began, only World War II veterans were invited to visit the capitol through this program," Wendlowsky said. "There is now support for Korean War vets to take part as they are reaching their early-to-mid 80s. Some Vietnam veterans, whose health considerations are assessed by the Mid-Michigan Honor Flight Board, will begin to join us for these tours."
The former servicemen will arrive on Monday, May 22, and gather at East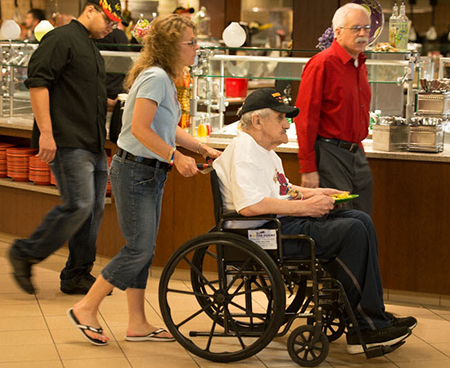 Campus Suites, for complimentary lodging during the excursion. Bus service is provided to participants by university transportation, late that afternoon, which takes them to a meet-and-greet and welcome dinner at the University Center. Servicemen and guardians then return to their rooms, ahead of a full schedule arranged for them, on Wednesday, which is highlighted by a flight to the Capitol, from Ford International Airport in Grand Rapids.
"Guardians pay their own travel expenses, totaling approximately $500, so that they might have the chance to meet and bond with the veteran they are assigned to," Wendlowsky said. "It's an active day, with the Virginia and Maryland Honor Flight chapters turning out to greet and honor our participants. Our intention is to provide them with the largest span of time possible to explore the World War II Memorial during their Washington, D.C. visit."
Wendlowsky said they will use a police escort to make their way from one memorial to the next, a provision that the District of Columbia only extends to veterans' groups.
"The itinerary includes visits to the Korean War Memorial, Vietnam Veterans Memorial Wall and the Lincoln Memorial," Wendlowsky said. "There will also be a visit to the Arlington Memorial Cemetery to view the Changing of the Guard."
Wendlowsky added that pains are taken to replicate part of the veteran's past military experience during their tour of the Capitol.

"One of the favorite elements of the program is to gather letters from the community, including school-age children, program supporters and other veterans, so that a bonafide 'mail call' can take place, as they would have experienced at their base, or in the field," Wendlowsky said.
The veterans will be greeted upon their return to the airport, in Grand Rapids, by another reception group, and back on campus at approximately 11 p.m. on Tuesday, May 23. Wendlowsky said after a night's rest, in the East Campus Suites, the final gathering for the group is a breakfast at the Rock Café, on Wednesday, May 24.
"Throughout Ferris' leadership team and departments there is a sincere commitment to offer the best possible excursion for these veterans," Wendlowsky said. "We know that the World War II-era pool of veterans is declining and in time the Korean War veterans will face similar circumstances. Planning has begun to develop a more participant-driven Honor Flight program to pay tribute to the Vietnam veterans and provide them this experience."

PHOTO CAPTION: Ferris State University is a major sponsor of Mid-Michigan Honor Flight, a nonprofit with a mission "to transport America's Veterans to Washington, D.C. to visit those memorials dedicated to honor their sacrifices." Their Mission VII is set for Monday, May 22, continuing to Wednesday morning, May 24.