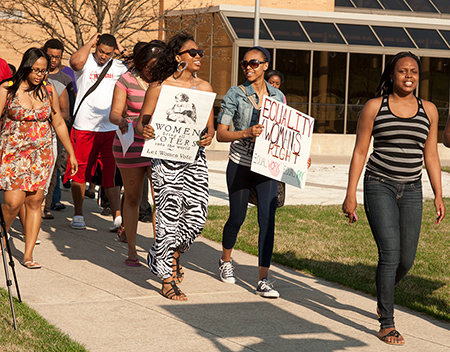 A variety of events have been organized by the Office of Multicultural Student Services during March, which is Women's History Month, to explore concepts and celebrate influential women, both on the national scene, and in the lives of individuals.
The University Center Art Gallery will host the Women's History Month feature event, as the university's Museum of Sexist Objects, OMSS and the gallery sponsor presentation of the 1998 award-winning documentary, "Barbie Nation" on Monday, March 27. The screenings will be offered at 1 p.m. and 5 p.m., as the film considers the world's most popular toy as a cultural icon and element of history.
Tuesday, March 14 through Thursday, March 16, OMSS will place tables in the University Center, where students, faculty and staff can create thank-you cards for women who were influential in that individual's life. More information on the #BecauseofHER women's appreciation campaign is available through the OMSS website.
Michael Wade, assistant director of OMSS, said that the National Organization of Women will sponsor collection of feminine hygiene products from Monday, March 13 to Friday, March 31. The "Support Our Sisters Women's Health Initiative" will benefit Degage Ministries in Grand Rapids, with drop boxes available in the OMSS office, the University Recreation office and the Center for Leadership Activities and Career Services in the University Center.
Assistant Professor of Social Work Kathryn Woods will offer the Women's History Month Lecture on "Sexism in Print Advertising," Tuesday, March 21 at 6 p.m., in the Founder's Room of the University Center.
"I have been collecting print advertising from magazines and newspapers for around 10 years," Woods said. "I have seen some interesting shifts in theme and content during that time, and I believe that the presentation will offer some interesting perspective to the audience, as there are varied levels of sensitivity found in these ads. I also enjoy participation and involvement with the audience in these presentations."
Woods acknowledged that advertising found on line is not part of her presentation, but that in general, there are important themes she hopes her audience will consider.
"The level of violence these advertisements portray has been escalating, with some disturbing examples involving women," Woods said. "Ads on the internet are an even larger consideration. We very much hope that all gender identities will join us that evening, as I believe they will find something of value in this presentation."
Ferris students will offer songs, poetry, dances and other acknowledgements of influential women in history Wednesday, March 22. The Women's History Month Student Tribute will begin at 6 p.m. in room 120 of the Interdisciplinary Resource Center. That event is sponsored by OMSS, and participants are encouraged to sign up at their office.
The final event on the Women's History Month schedule is the screening of "Equal Means Equal," Friday, March 31 at 1:30 p.m., in room 102 of the Granger Center for Construction and HVACR. The documentary won the Audience Award for Best U.S. Documentary at the 2016 Traverse City Film Festival.
"OMSS seeks to provide a platform to spotlight the contributions women have made each year during this celebration," Wade said. "We hope that attendees at the events are educated on current events and issues surrounding women in society as well as are inspired by these presentations."


PHOTO CAPTION: Ferris State University students will have a number of activities during March, which is Women's History Month. Featured events include screenings of the movies "Barbie Nation" on Monday, March 27 and "Equal Means Equal," on Friday, March 31.