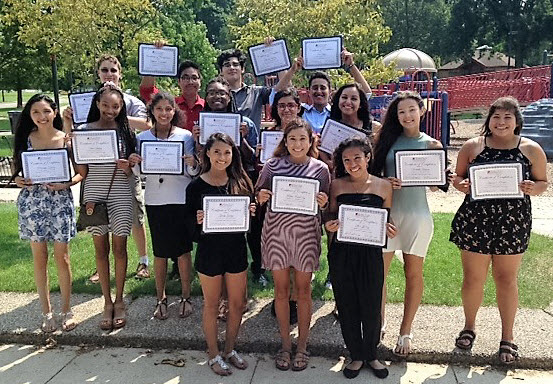 The Promesa Summer Success Program, an eight-week college preparedness and cultural enrichment offering organized by Ferris State University's Center for [email protected] Studies, enters its fifth year, in 2017, with continued support from the Douglas and Maria DeVos Foundation.
The "Believe2Become" initiative, developed by the DeVos Foundation to benefit Grand Rapids-area neighborhoods, has made a grant award to Promesa for a third straight year, according to CLS Executive Director Kaylee Moreno.
"We are thrilled to again receive support from the DeVos Foundation," Moreno said. "This will allow us to continue offering students a chance to rethink how they are engaging with the Grand Rapids community, and earn college credit along the way."
The 2017 grant from the DeVos Foundation and its Believe2Become program totals $37,500. That grant award will help fund tuition and materials for 25 Promesa participants, in Grand Rapids. Moreno said Ferris will also offer Promesa programs in Oceana County, for students from Hart, Shelby and Walkerville, as well as in Holland. The program featured 51 participants in 2016.
Promesa was first offered as a pilot program in Grand Rapids in 2013, and established the goal to prepare high school seniors for success in higher education, by blending college preparation with cultural experiences. By connecting the cultural background of its participants to the curriculum, the program helps students view their experiences and identities as assets in navigating post-secondary education. Students can earn up to nine hours of college credit during the eight-week program.
"This program gives students a greater understanding of themselves, their community and the resources available to assist them in achieving their dreams," Moreno said. "The continued support of the DeVos Foundation will allow us to help more of West Michigan's students make those dreams a reality."
Click Center for [email protected] Studies for more information about the office, its mission, activities, staff and more.


PHOTO CAPTION: A $37,500 grant has been received by Ferris State University's Center for [email protected] Studies from Believe2Become, an initiative of the Douglas and Maria DeVos Foundation. The CLS oversees a Promesa Summer Success Program, which offers college preparation and cultural experiences to students from at-risk populations. A group of Promesa students is pictured after the completion of their program.