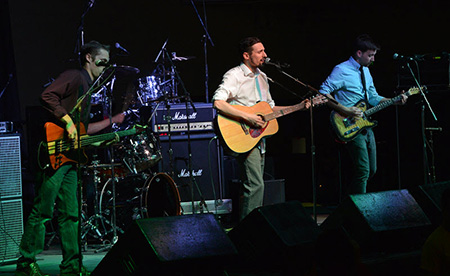 Battle Creek, Mich. native Frankie Ballard, a Warner Bros. recording artist, will be the headline act for the 2017 "Music Takes Action" Ferris State University's benefit concert, to be held Friday, March 24, in Jim Wink Arena.
Lacie Tryan, a senior from Perkins, Mich. studying Music Industry Management, is a co-coordinator for Music Takes Action as part of Entertainment Unlimited, the campus programming board. Tryan said raffle tickets will be available throughout the concert.
"We hope students and all others in our audience will take the chance to win prizes from stores and restaurants in the community," Tryan said. "All the money raised during the concert will be given to Animal Rescue Coalition (ARC) of Mecosta County. We also encourage registered student organizations to collaborate with us, by promoting their organizations and raising money with mini-games, selling crafts and other activities."
Nicholas Smith, activities coordinator with Ferris' Center for Leadership, Activities and Career Services, said the choice to bring in rock and country performers, to offer the concert beginning in the late afternoon and determining a charity to support were all the result of responses from focus groups.
"Surveys are done each year so that we correctly gauge student interests," Smith said. "EU participants do the legwork and research to offer a quality concert. It has been a while since we offered musical acts with country influences in our lineup."
Tryan said presenting Music Takes Action earlier in the spring semester was also a conscious effort of EU's leadership.
"Other colleges have end-of-year concerts, which has an impact on artist pricing," Tryan said. "Moving our show date means we can bring in quality acts at a better price. Both Frankie Ballard and A Thousand Horses are recording artists with country and rock influences, and their singles have received great attention, which we expect will be attractive to a wide range of students."
Ballard has recorded two albums for Warner Bros. Records after his debut release with Reprise, and "You'll Accompany Me" is his current single. Three previous singles, '"Helluva Life," "Sunshine & Whiskey" and "Young & Crazy" topped the Billboard Country Airplay charts in 2013 and 2014. Nashville, Tenn.-based A Thousand Horses saw "Smoke," their debut single reach No. 1 on that chart in 2015. Their album, "Southernality," was released by Republic Nashville Records.
Also on the concert bill, beginning at 5:30 p.m. that day, are Spike the Media, a progressive rock group comprised of Ferris students, which will be first to the stage.
Tickets for Music Takes Action are free, and were made available to Ferris students beginning Monday, Feb. 27, Students-only distribution continues through Tuesday, March 14, 11 a.m. to 4 p.m. at the EU office. As of Wednesday, March 15, tickets will be made available to the general public, at which time a two-ticket limit per person will be in place.
"Anyone interested in attending will need a ticket to get into the venue," Tryan said. "This is the first year we have operated Music Takes Action with a ticketing system. We will be able to get a head count for attendance, and can give our students an appropriate opportunity to enjoy this event."
Anyone wishing to attend the concert who needs special accommodations should contact the EU office at (231) 591-2610, prior to Tuesday, March 21.


PHOTO CAPTION: Music Takes Action, a benefit concert sponsored by Ferris State University's Entertainment Unlimited campus programming board, will be held on Friday, March 24, beginning at 5:30 p.m. The concert will be held in Jim Wink Arena in the Ewigleben Sports Complex. The photo is from the 2015 event, which was known at that time as Ferris Fest.