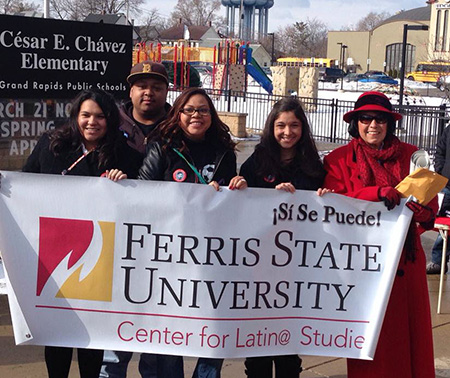 To celebrate the 90th anniversary of the birth of labor leader and civil rights activist Cesar Chavez, Ferris State University's Center for [email protected] Studies will offer a schedule of events on campus beginning Tuesday, March 14.
CLS Executive Director Kaylee Moreno said while the Center intends to celebrate Chavez's legacy, they will also reflect on the contributions of Delores Huerta, Chavez's sister-in law, who was a co-founder of the National Farmworkers Association.
"Tuesday, March 14, the Office of Multicultural Student Services is collaborating with our office, as we will screen 'Cesar Chavez,' beginning at 5 p.m. in room 120 of the Interdisciplinary Resource Center," Moreno said. "We welcome students, as well as members of the Big Rapids community, to join us for the film, with a discussion to follow."
Wednesday, March 15, the CLS office hosts its Testimonios: Si Se Puede, or "Yes, We Can," which will feature a student panel involved in Promesa programs on the Ferris campus. Testimonios programs are offered each semester, and the event begins at 6 p.m. in IRC Room 109, with refreshments provided.
Students, staff and faculty are invited to travel by bus on Thursday, March 16, to attend the Cesar Chavez Social Justice March and accompanying activities in downtown Grand Rapids. Moreno said CLS has the ability to transport up to 30 people.
"This march is an opportunity for students to participate in the event, and learn more about Chavez' legacy, while seeing how a community continues to come together and recognize those who are living that legacy," Moreno said. "We encourage anyone interested in joining us to contact the office by Tuesday, March 14."
Anyone with disabilities who would hope to attend any of the events should contact the CLS office at (231) 591-2470 at least 72 hours in advance.


PHOTO CAPTION: The Center for [email protected] Studies at Ferris State University will continue its participation in the Cesar Chavez Social Justice March Thursday, March 16. A group of students and supporters were part of the university's contingent at the march in 2014.