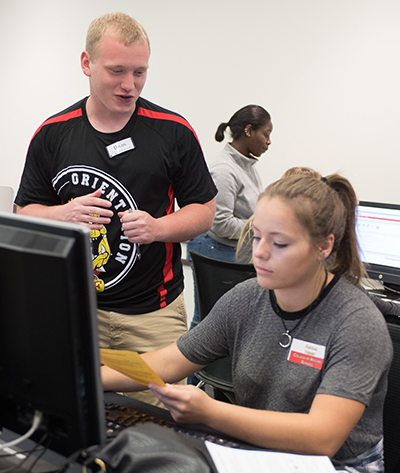 The University Center was a swirling hub of activity Tuesday, June 20, as 223 incoming Ferris State University students made important contacts and connections at their orientation session.
A line of students, parents and interested supporters moved in and out of the Fine Art Gallery and other second-floor UC rooms, with staff from the university on hand to provide assistance. Jason DaDay, an assistant director of communications with Ferris' Admissions Office, said the staff understands that orientation helps students become more familiar with the university, so the focus is on meeting the needs, efficiently and thoroughly.
"The prevailing theme for each orientation session, with respect to students, is excitement with a bit of eager anticipation," DaDay said. "We enjoy this contact with our students as they pursue their opportunity to advance their education, career goals and lives at Ferris State University."
Dwight Spearman Jr., of Detroit, relaxed outside the Quad Café, in the University Center building, while his niece, Kentasia Peete, met with Housing and Residence Life staff across the hall. Spearman said his father, Dwight Sr., was a Ferris student in the 1970s, and was impressed with the efforts being made by the university.
"This is my first visit to an orientation, and we are not finding any confusion as we go through the process," Spearman said. "Kentasia is the fourth member of our family to go to college, and made Ferris her choice after considering other schools. She seems happy with what the university has to offer her, but, since we are a tight family, and this will be her first time away from home, she will likely come back to Detroit, often."
Kaleb VanKrimpen, of Kalamazoo, sat with his mother, Jody, awaiting the welcome presentation in the UC Ballroom, after completing the steps to enter the university records process. Kaleb plans to pursue a career in Automotive Engineering Technology.
"I wanted an actual college experience, beyond what an automotive trade school or community college might offer me, so I chose Ferris," VanKrimpen said. "I am looking forward to moving into Brophy Hall, as the choice suits my needs and curriculum requirements."
Kaleb said he knew another girl, from his class at Kalamazoo Central High School, who was attending Ferris, but he was encouraged by the chance to experience greater diversity and other opportunities on the Big Rapids campus.
"I look forward to meeting people from other places and other cultures," VanKrimpen said. "I believe it will be an important part of my education."
The orientation schedule continues for incoming Ferris students the week of Monday, July 10, with a Monday-Tuesday-Thursday offering of sessions that week, and a similar pattern will begin on Monday, July 17. The final orientation session for new students will be offered on Thursday, Aug. 24, prior to the start of fall semester on Monday, Aug. 28.


PHOTO CAPTION: New students to Ferris State University participated in a number of activities related to orientation, during the week of June 19, throughout the University Center building.