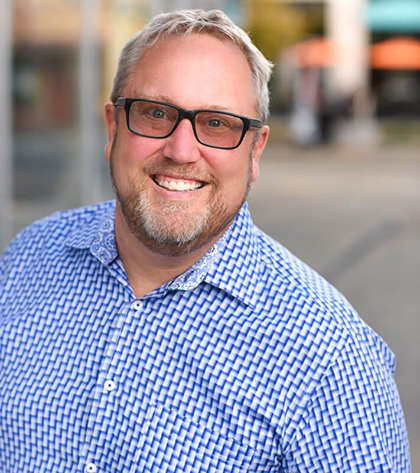 An active Ferris State University alumnus will add new involvement and responsibility to his bustling schedule as Luke Wyckoff, the chief visionary officer and founder of Social Media Energy, has been appointed to The Ferris Foundation Board of Directors.
Wyckoff, a native of Sheridan, Michigan, is a 1993 graduate of Ferris' College of Business earning a Bachelor of Science in Marketing-Sales with a minor in Speech Communication, after receiving an Associate of Applied Science in Audio/Visual Production. Beyond his leadership at SME, a digital media management firm with more than 300 clients, he is also founder of Wyckoff Consulting, an executive search/human resource advisory firm.
Carla Miller, executive director of The Ferris Foundation, said Wyckoff's professional and personal attributes will be a true asset to the board.
"First and foremost, with Luke, is his passion for the university through individual efforts like the Mile High Bulldogs, in Denver," Miller said. "He is a most energetic connector of people and purposes, and is a valued contributor to our campus and the university. He has never forgotten his home or his university."
Wyckoff has served on the Alumni Association board, and regularly schedules two events a year for Ferris graduates and friends in Colorado. He also has returned to campus, on multiple occasions, to speak to students, faculty and staff, and share his insights on social media and career preparedness. Wyckoff said he is looking forward to his new involvement, at Ferris, and the prospect of promoting and supporting his alma mater.
"Ferris State University is where I, and many business and community leaders in and out of Michigan, were able to realize and build upon our potential," Wyckoff said. "The university, and West Michigan in general, hold a very important place in my heart. The chance to serve The Ferris Foundation is a great and meaningful honor. I look forward to meeting and working with other board members so we can support excellence and learning opportunities for Ferris' students, faculty and staff."
Wyckoff will join the Board of Directors, along with Marketing professor Susan Jones, as well as two other alumni, Andrew Kalinowski and Welding Engineering Technology assistant professor Ken Kuk, to serve among more than 30 active and emeriti members supporting The Ferris Foundation.
Click The Ferris Foundation for more information.


PHOTO CAPTION: Luke Wyckoff is the chief visionary officer and founder of Social Media Energy.