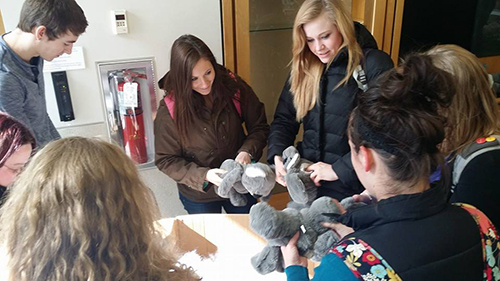 Ferris State University's Entertainment Unlimited, the campus programming board, is hosting "Stuff-A-Plush" on Tuesday, Feb. 14, at 11 a.m. in University Center, Room 202B.
The bi-annual event is an opportunity for students to build their own stuffed animal. Participants pick from 12 different animals, and stuff to their liking. Students keep their newly-stuffed animal as a takeaway. The event is conducted on a first-come-first-served basis, and typically attracts large crowds. Interested participants are encouraged to arrive early for a better opportunity to stuff a plush.
"We hope to see a new crowd along with familiar faces," said Justin Stevenson, a senior in Hospitality Management from Oak Park, Mich., and EU's event programmer.
The free event is open to Ferris students, faculty and staff. For more information, check the University Events Calendar or contact Stevenson at [email protected].


PHOTO CAPTION: Students participate in the Entertainment Unlimited Stuff-A-Plush event on campus. This semester's event is scheduled for Feb. 14, Valentine's Day.