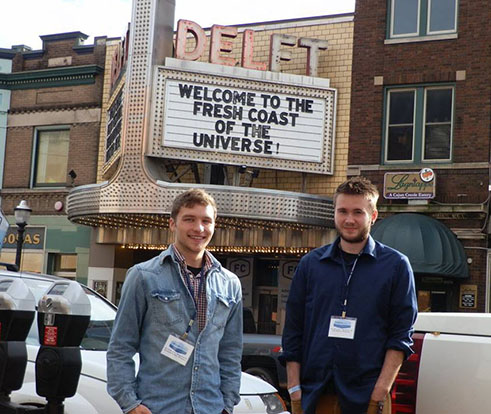 Two Ferris State University Television and Digital Media Production students made their way to Marquette, during fall semester, as their mini-documentary, "The Muskegon," was exhibited at this year's Fresh Coast Film Festival.
College of Education and Human Services Associate Professor Nick Kuiper said Raymond Heinlen, of Mason, and Josh Monroe, of Holland, collaborated on the seven-minute piece, which was submitted as a project in the TDMP 243 Introduction to Digital Video class.
"Every semester, student work we consider to be of the highest quality is made available in our server," Kuiper said. "Assistant Professor Joshua Pardon makes submissions to exhibit these works throughout Michigan, and in the Midwest. After last year's inaugural Fresh Coast Film Festival, the event's organizer, Aaron Peterson, visited as a guest lecturer and explained that he was looking for student-produced works that were focused on nature."
Heinlen said he considered the idea of a mini-documentary about the Muskegon River, based on discussions he had as a member of the Ferris Outdoor Club, a campus registered student organization.
"Our adviser, Professor Cindy Fitzwilliams-Heck, made us aware of the hydroelectric dams on the river, and their impact," Heinlen said. "I thought it would make a good subject, something that people may not be aware of."
Monroe said Heinlen's proposal was just what he was looking for when the assignment was announced.
"I was at a loss on what to pursue for our project," Monroe said. "Ray, my partner, immediately came up to me with the topic of dam removals, and I could sense his excitement. I had to read up on the subject, and we had a great time to be out on the river to film. It was beautiful. We experienced all four seasons of Michigan weather in those five days."
Kuiper said the product shown during the festival, which ran Thursday, Oct. 19 through Sunday, Oct. 22, was advanced from the original work Heinlen and Monroe had submitted for their class.
"There was a significant amount of work done as they made changes based on feedback as part of the grading and learning process," Kuiper said. "For a project in a 200-level TDMP course, theirs was a very well-thought-out presentation."
Heinlen said he would be hard pressed to specify the number of man-hours he and Monroe put into the project, from start to finish.
"You work on projects like this, and it is hard to offer specifics on your time investment," Heinlen said. "We spread the effort out over a few weeks."
This project was an absolute pleasure to be a part of, it feels amazing to raise awareness about the subject," Monroe said. "Thanks to Nick's input, we were able to refine our work even further."
Through Pardon's effective pursuit of FCFF leadership, the students' work was selected to be included in the festival schedule.
"When I got the news from Joshua Pardon, that our film was entered, I was ecstatic," Monroe said. "Going up to Marquette, where there were people with similar passions to ours was a breath of fresh air, and all those involved did an amazing job. We owe a lot to Nick and Joshua Pardon for their instruction, and pushing us to better ourselves, and we are very thankful to the festival directors."
"It was really exciting to have this kind of recognition for something we worked so hard on," Heinlen said. "Josh Monroe and I were invested in telling our story about issues regarding the river, more so than going for our grade."
Kuiper said the TDMP program has, over time, successfully distributed and exhibited the best works offered by its students.
"We have had featured works and award-winning productions, which were judged on the national level," Kuiper said. "That includes nominations and awards gained for Student Emmys, as judged by the National Academy of Television Arts, Sciences and Education."


PHOTO CAPTION: Television and Digital Media Production students Ray Heinlen, (left) of Mason, and Josh Monroe, of Holland were invited to present their mini-documentary, "The Muskegon," at the second annual Fresh Coast Film Festival in Marquette. The video, focused on issues regarding dams along the waterway was originally submitted as classwork in TDMP 243, Introduction to Digital Video.