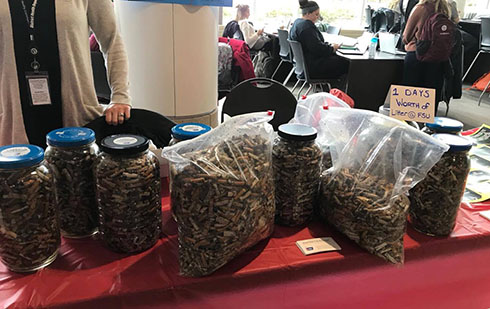 An American Cancer Society grant has funded Ferris State University awareness and outreach as an assistant professor of Public Health, student workers and interns have collaborated to draw attention to the possible establishment of a tobacco-free campus designation.
Activities for the Fall 2017 semester have concluded, according to College of Health Professions Professor Fathima Wakeel.
"The grant money was received in June and a pair of student workers, Allyson Hill, of Charlotte, and Ali Quilitzsch, of Morley, were hired to support our outreach programming," Wakeel said. "Anthony Picard, of North Muskegon, has also collaborated with my office as our intern for this project. Our students had the opportunity to an ACS-sponsored seminar, in Ann Arbor, earlier this year to prepare for these activities."
Hill said preparations for their activities included outreach in the previous academic year, and there have been policy discussions held with members of Ferris' Student Government Association.
"We have had more than half of the student population and university staff say, in survey responses, that they were in favor of a tobacco-free campus," Hill said. "That includes the responses offered in a 'dot survey,' where participants could place their votes for 'Yes,' 'No' or 'Maybe,' when considering our question."
Wakeel said their Tuesday, Oct. 31 "Smoke Butts Out" event sought to raise awareness of the level of smoking that occurred on campus, address the environmental impact of cigarette use, and provide an opportunity for College of Health Professions faculty and students to offer service to the community.
"We collected a good many cigarette butts from the grounds that day along with a considerable amount of other litter," Wakeel said. "Those materials do not degrade very quickly, and working to clean up those areas was a benefit in terms of aesthetics and as a chance for students to record community service time. We had good participation."
The District 10 Health Department, which serves Mecosta County and surrounding areas, also worked with this group on the Great American Smokeout. Hill said they offered their outreach program on Thursday, Nov. 16, which is the national day to encourage smokers to give up the habit, if only temporarily.
"We let them decorate their hands with markers, so they would see the mark when they would take a cigarette in hand, and remember our message," Hill said. "Some of our participants chose to name the person they would consider quitting smoking for."
"The Smokeout has been held each year, for nearly 50 years," Wakeel said. "We were happy to have the support of the Birkam Health Center and the Active Minds registered student organization chapter, as we illustrated the effects of vaping and smoking, offered emphysema testing, provided information on how carbon monoxide affects a smoker's health, and made the tobacco-free campus petition available."
Hill will serve as Wakeel's intern in the Spring 2018 semester, and said she is encouraged by the momentum that has been generated by these efforts.
"There is more to do, before we approach the SGA for specific action, and the conversation about a tobacco-free campus advances to the university's administration," Hill said. "We are glad that there has been interest in the concept, and we will continue these efforts and discussions in the year ahead."
"I have very much enjoyed my internship and the collaboration with other students and faculty," Picard said. "I am looking forward to the finished product."
"We have a lot of work ahead of us, but we are definitely ready for it," Quilitzsch said. "My involvement in this project has confirmed my passion for public health. I can't wait for the future."


PHOTO CAPTION: Cigarette butts collected across the Ferris State University campus were part of the displays and information available during the Great American Smokeout, which was celebrated nationally on Thursday, Nov. 16. A grant-funded project is doing outreach to address physical and environmental impact of smoking, while promoting the prospect of making the Ferris campus tobacco-free.