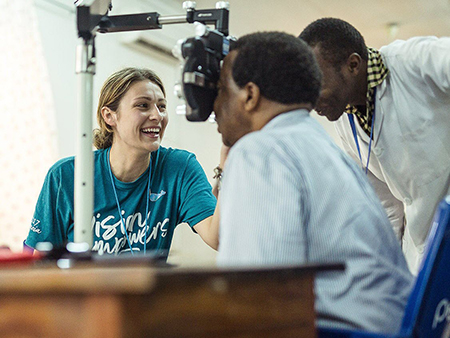 A third-year student in the Michigan College of Optometry at Ferris State University has offered a vivid account of her experience in Tanzania, this May, as part of a 25-member student team supporting the OneSight Vision Care Clinic in the country's largest city, Dar Es Salaam.
Charlotte Love, of Milford, was selected to join the student team, with scholarship support from the Vision Empowers partnership, to work alongside doctors and clinicians with Luxottica's OneSight program. There were about 450 applicants, and Love was selected as an alternate to participate in the clinic. She said the level of care that was offered to more than 3,200 clients was vastly different than her three previous mission trips.
"I had the opportunity to participate in meaningful clinical applications each day," Love said. "We checked pressures with the patients, dilated their eyes and completed ocular health checks."
Love said she saw cases that may not come her way in a general practice in the U.S.
"There were many patients, with varied and serious illness who traveled from towns four hours away, to benefit from this clinic," Love said. "Some had ocular conditions brought on by communicable or sexual disease, which never would have progressed to this point in our country. The eyes are windows to vascular disease, so some patients received diagnosis of diabetic retinopathy as a result of this clinic."
Another difference the OneSight clinic offered, according to Love, was the ability to outfit patients with equipment suited for their particular vision need.
"Those who were prescribed glasses were offered frame choices, and there were four lens grinders in operation to assure that the equipment matched their prescription," Love said. "It was an awesome exhibition of providing quality examinations and watching glasses being produced for our patients. That's not something other medical outreach operations could match."
Love is a veteran of international mission work, dating back to her undergrad years at Oakland University, where she was among the founders of their Medical Brigades chapter, beginning in 2011.
"I volunteered that first year, for a trip to Honduras, and served as vice president of our chapter in 2012," Love said. "I was president of Medical Brigades for a trip to Panama in 2013. Global Brigades at Oakland has grown to five chapters (including business, medical and public health), and more than $750,000 has been raised, over the years, to support their outreach. That is very gratifying."
She is also serving as Public Relations Liaison for Ferris' chapter of SVOSH (Student Volunteer Optometric Service to Humanity), which has been supported by Optometry Professor Dan Wrubel for 25 years.
"It is a great opportunity for students to volunteer, working with donated glasses from the community," Love said. "The Big Rapids Lions Club has been a champion fundraiser for our program, and we receive used glasses and frames collected at Cedar Point, Michigan's Adventure and Lions Clubs throughout Michigan. I am glad to be part of a continuing program, like SVOSH, which offers important medical care to people who really need it."
Glasses can be donated at the University Eye Center, part of the MCO complex, or Love suggests a conference with any local eye doctor.
Charlotte said the OneSight experience has given her a greater perspective on her prospects, after she completes studies at MCO.
"I would be very interested in working with an organization like OneSight, or a community health center," Love said. "Their clientele are the people who can benefit the most from the assistance and treatment that we can provide as optometrists. Also, those clients are very appreciative of the care that we can offer."


PHOTO CAPTION: Michigan College of Optometry at Ferris State University third-year student Charlotte Love, of Milford, assists patients at the OneSight Vision Care Clinic offered this May, in Dar Es Salaam, Tanzania.