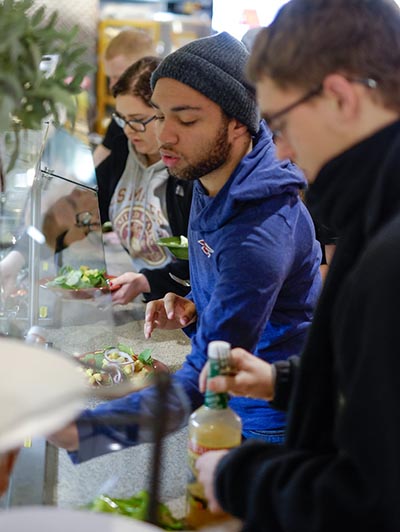 Students arriving at Ferris State University's residence halls, ahead of the beginning of the 2017-18 academic year, will find information on a variety of new Dining Services opportunities available to them.
With North Hall now housing residents, the option of eating lunches at the Quad Café, in the University Center or The Rock Café, will be available with a shuttle bus traveling between those facilities from 11 a.m. to 2 p.m., on a Monday-to-Thursday schedule.
Dining options are also part of the new offering available to students, whether they have Anytime or Express Meal Plans. A free "Dawg dish" takeout container has been provided to each student residing on campus that can also be used to acquire a meal to-go, which also includes those students who wish to pay at the door.
Those with meal plans can utilize a Meal X-Change program, which allows them to carry out a meal by simply swiping their card at a check-out station. The offer will be available at the Snack Shack from 10 a.m. to 10 p.m. Monday through Friday, and from 12 p.m. to 1 a.m., Monday through Sunday at The Market. Meal choices available in the Meal X-Change include:
Pizza and a fountain beverage
A sandwich, chips and a fountain beverage
Salad and a fountain beverage
Two breakfast sandwiches and a fountain beverage
Other new offerings include Hispanic cuisine available at The Rock Café, from 11 a.m. to 1 p.m., Monday through Friday, and pizza by the slice available at The Market and the Quad Food Court.
Students who have purchased Bulldog Bucks from Dining Services are reminded that the debit system can be used for purchases at the following facilities:
Founders Grille, at Katke Golf Course
All Starbucks locations
Grill Pit, in the Quad Food Court
Snack Shack, in the Quad Food Court
Sushi With Gusto, in the Quad Food Court
Freshens, in the Quad Café


PHOTO CAPTION: The Dining Services staff at Ferris State University are informing students, faculty and staff of a variety of changes to meal offers, and the addition of a shuttle bus between the University Center and The Rock Café, prior to the start of the 2017-18 academic year.