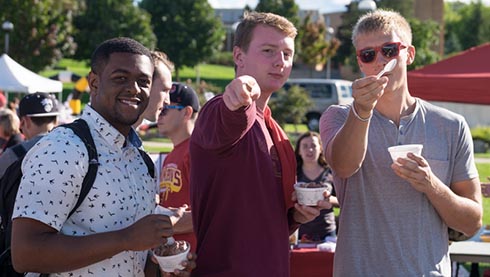 A day of activities to celebrate the history and prospects of Ferris State University, along with offers of food and fun, are planned for Thursday, Aug. 31, in the 11the Founders' Day Celebration on the Big Rapids campus.
Ferris President David Eisler will reflect on the legacy of Woodbridge and Helen Gillespie Ferris, and consider the university's future, in his 11 a.m. speech, will which be offered in University Center, Room 203. Center for Leadership, Activities and Career Services Director Angela Roman said that event brings focus to this important day on campus.
"We are pleased that the president is so active in Founders' Day activities where our community can celebrate the history and values of the university," Roman said. "There are events throughout the day where Big Rapids area residents are welcome to take part, along with Ferris students, faculty and staff."
An employee picnic will follow at 11:30 a.m. to 1 p.m., under a tent to be raised on the North Quad.
Roman said another inclusive opportunity will begin at 4 p.m. on the North Quad, as an Ice Cream Social will feature celebrity servers from the university and Big Rapids communities.
"Service was an important concept in Woodbridge Ferris' belief system so we welcome our five-star registered student organizations and community nonprofit groups to highlight their efforts and encourage volunteerism," Roman said. "The General Counsel and Governmental Relations office sponsors the ice cream social and their supporters will serve sweet treats until 6:30 p.m. or until their supplies are gone."
Other activities at the event include a photo booth, an obstacle course and a variety of prize drawings.
Music in the UC will cap Founders' Day activities, as "The Human iPod," John Rush, will perform beginning at 9 p.m. in the Rankin Atrium of the UC.
"He has a repertoire which encompasses thousands of songs," Roman said. "Rush has been honored as Campus Musician of the Year and Campus Entertainer of the Year. He will read off requests written on Post-It notes offered by the audience, and they remain involved, selecting the next tune after John lists their choices."
Founders' Day is part of the Bulldog Beginnings schedule of events designed to welcome students to the Ferris campus which continues through Saturday, Sept. 9.


PHOTO CAPTION: An afternoon ice cream social to be held on Ferris State University's North Quad Thursday, Aug. 31 is on the schedule of traditional Founders' Day activities.