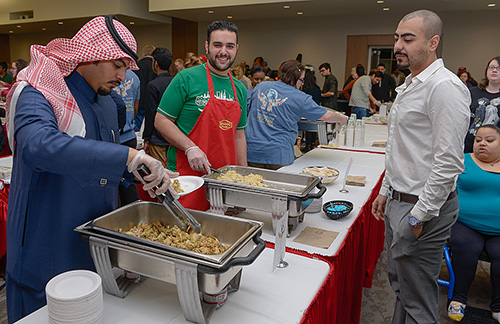 The diversity of Ferris State University's student, faculty and staff populations will be celebrated Sunday, April 9, as the 29th annual International Festival of Cultures will be held in the University Center ballroom, from 1 to 5 p.m.
The festival, which is open to the public, is funded by the President's Office and hosted by the Office of International Education, according to Sylvia Maixner, of the OIE staff. Maixner noted that with 22 represented countries, there should be new food samples offered along with traditional favorites available for attendees who are interested in world cuisine.
"It's a popular element of the event each year," Maixner said. "Students will receive three food tickets when they present their Ferris ID. Individual food tickets can be purchased for 50 cents apiece."
Musical performances and entertainment, indicative of a participant's homeland, are always well-received by attendees, according to Maixner.
"The Ukulele Club, a registered student organization, will be among the performers, along with an a cappella musical group," Maixner said. "Our guests, young and old, will enjoy the magician, dancers and other musicians who will be entertaining that afternoon."
Those attending the festival will also be able to leave the University Center with something more tangible as a number of cultural information booths, and other stations, will be set up for audience interactions.
"With the great response last year to the henna tattoos, we have secured more artists to meet the demand at this year's festival," Maixner said. "We understand the appeal of that art form and invite participants to visit stations, where their name or some other writings can be acquired, which are produced in Arabic, Vietnamese, Chinese, and possibly in script from other Asian countries."
The Office of International Education welcomes the collaborative efforts of community groups like ArtWorks of Big Rapids, which has planned an interactive exhibit for the festival. Maixner said there will be a variety of cultural information booths, and registered student organizations taking the opportunity to meet with students and guests at the event.
"Every year, we see faculty and staff, along with area residents who indicate they have been looking forward to take part again in all that the festival offers," Maixner said. "They delight in the delicacies they can enjoy, as well as the variety of performances."
Anyone who would like to attend the festival, but requires special accommodations, should contact (231) 591-2450 or send an email at least 72 hours in advance. Anyone with questions related to the event can contact OIE at the same phone number and email address.


PHOTO CAPTION: The 29th annual International Festival of Cultures will be held Sunday, April 9 from 1 to 5 p.m. in Ferris State University's University Center ballroom. Those attending will be able to get writing samples from various cultures as part of this event.