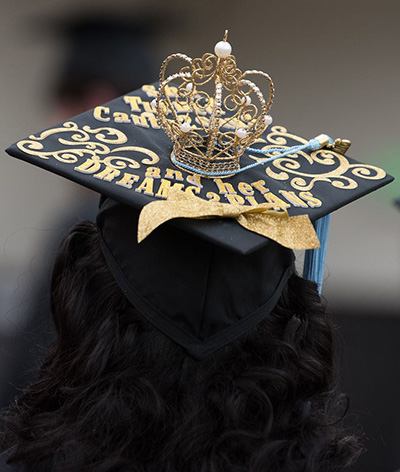 Click the link for the preview of the Commencement Cap Photo Challenge.
Graduates planning to decorate their caps for Ferris State University's Spring 2017 commencement ceremonies could be eligible to win prizes. The News Services and Social Media office, in collaboration with the Alumni Relations office, will be hosting the university's first Commencement Cap Photo Challenge in conjunction with main-campus graduation ceremonies Friday, May 5 and Saturday, May 6.
Contest participants could be eligible to win one of four prize packages. One grand-prize winner will be named. Three additional prize winners will be announced as judged by a student panel. The grand-prize winner will receive a large diploma frame, a portfolio and a pen set. The three additional winners will receive a portfolio and pen set in recognition of their commencement season creativity.
The contest is open to students participating in Ferris' May 2017 commencement ceremonies. Challenge rules have been posted to offer guidance to contest participants. The contest kicked off during the Spring 2017 Grad Fair, on Tuesday, March 28, and runs through Wednesday, April 26. Entries will be judged by a student panel. Winners will be selected and notified by email. The winners will be announced prior to the commencement exercises.
Gabrielle Baur, a senior in Public Relations from Benton Harbor, Mich. is excited for graduation and looks forward to her participation in the Commencement Cap Photo Challenge. Baur does not consider herself to be the most artistic person, but still looks forward to decorating a cap to ensure her parents will be able to find her among the graduates in Jim Wink Arena. She also wants to be in the running for one of the prize packages.
"I have seen a lot of people in previous years decorate their cap, and I always thought it was really cool and creative," Baur said. "However, I'll probably end up putting something pretty random on my cap, such as a shark, my favorite food or something I can look up on Pinterest."
Participants should take two photos, one of just the cap and one of themselves holding their completed entry, and email them to [email protected]. Contestants may also email [email protected] and make arrangements to have the photos shot for them. Judges suggest that participants with the most creative cap designs are likely to find success in this challenge.

A successful contest entry should include, in addition to the photos, the following information:
First and last name
Major
Hometown
Description of your cap design

Any Commencement Cap Photo Challenge entries that contain or reference alcohol, alcohol promotion, drugs, drug paraphernalia, or nudity will not be judged and the entrant will be disqualified.
As a reminder, the deadline for submissions is Wednesday, April 26 at 11:59 p.m.

To learn more, visit the official Commencement Cap Photo Challenge website.