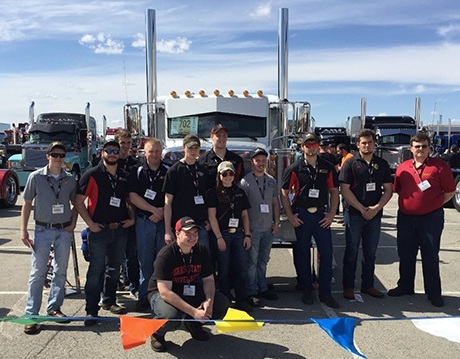 A tradition of providing academic excellence to students continued Tuesday, Sept. 20 through Thursday, Sept. 22, as Ferris State University's Heavy Equipment Service Engineering Technology program received re-accreditation from the Associated Equipment Distributors, after a favorable site visit. Initially accredited in 2001, this re-accreditation covers the next five years for the program established by the university nearly 60 years ago.
The AED accreditation team visited Ferris and observed best practices in engine, electronics, hydraulics, and powertrain for construction equipment. HSET program coordinator Gary Maike said that the university enjoys a unique position, nationally, with its Bachelor of Science degree program.
"We have graduates that work for major construction companies, original equipment manufacturers, OEM suppliers, fleets, distributors and repair facilities throughout the country," Maike said. "Graduates enjoy numerous employment opportunities and are in high demand."
The AED team praised the HSET program for the commitment made by faculty to support students in extra-curricular activities, which include time spent with student organizations and with Skills USA. The program's updated resources, such as new training components, additional construction equipment and newer computers were highlighted in these findings. The team's report commended the program for "relationships it has built with business and industry partners and advisory board members as evidenced by the number of internships, donations and curriculum input opportunities."
The report concluded that HSET's re-accreditation "signifies to current and prospective students that your program provides the best in diesel-equipment technical education as defined by the industry it serves."
Click Heavy Equipment Service Engineering Technology for program information.


PHOTO CAPTION: Heavy Equipment Service Engineering Technology students visited the Mid-America Truck Show in Louisville, Ky. The Associated Equipment Distributors, an international trade organization representing companies focused on construction equipment and their supplies and services has re-accredited the HSET program.