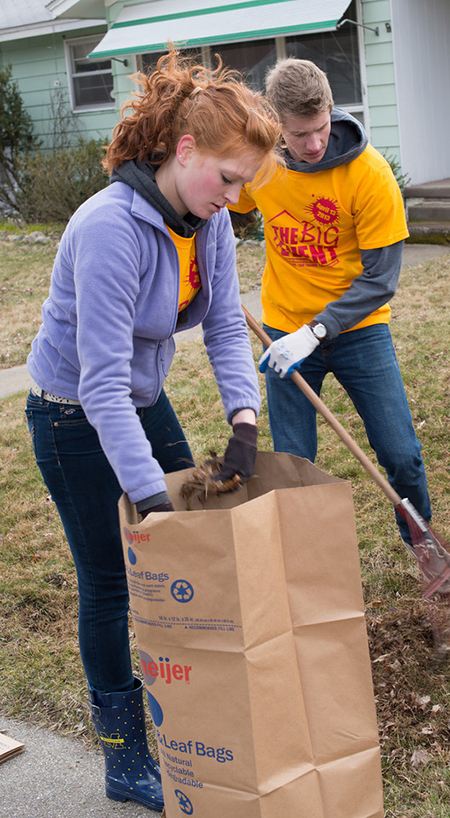 Ferris State University's Student Government Association and its Bulldog Sustainability Alliance are collaborating to host the 2016 Fall Alleyway Cleanup on Saturday, Oct. 15, beginning at 11 a.m. in the Big Rapids community.
The alley cleanup effort involves students and student organizations who adopt an alley as a way to give back to Big Rapids through community service. Student organizations that have adopted an alley to clean will meet at Williams Auditorium, on campus, to pick up tools and information prior to beginning their jobs. Work in the alleys will include clearing out litter, pulling up weeds, raking and generally improving the appearance of the areas.
"Our goal is to leave this university and community a little cleaner and a little greener than it was when we started," said Symon Cronk, BSA president. "The possibilities are endless, and it all starts with just getting involved with this university."
This event is the kickoff to a student-led beautification program. Organizers see the cleanup effort as part of a general effort to strengthen relations between students and community members, and to help the community shine. Snacks, refreshments and tools will be provided for the event.
For more information on the event, email Symon Cronk at , or visit ferris.edu/calendar, or the Student Government website.


PHOTO CAPTION: Similar to The Big Event community service project (the photo is from 2013) that takes place during the spring, Ferris State University students will be out in the Big Rapids community working on cleaning up alleys. The effort is being led by the Bulldog Sustainability Alliance and Student Government.