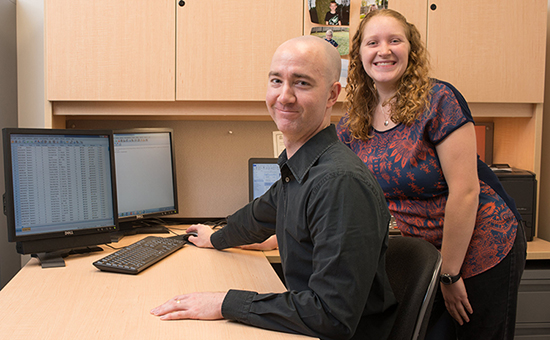 PHOTO CAPTION: Assistant professor of Public Health Programs, Michael Reger is joined by his student assistant, Danielle Winkler, a senior from Belmont seeking her Bachelor of Science degree in Public Health. Reger and Winkler are studying a national health and nutrition survey's results, with hopes of finding statistically significant details with regard to prostate cancer mortality.

An assistant professor of Public Health Programs is carefully examining a survey database with the assistance of a senior student, from Belmont, Mich., in search of statistically significant results on prostate cancer mortality.
Michael Reger said that his student, Danielle Winkler, began analyzing data in the National Health and Nutrition Examination Survey this past August, with the work supported by a Faculty Research Grant.
"This dataset is collected by the Centers for Disease Control every two years," Reger said. "One of our purposes was to expose Danielle to a large dataset, which can be intimidating. The NHANES provides the greatest probability of offering results that can be generalized to a larger population."
Reger added "Prostate Cancer Mortality Disparities in the National Health and Nutrition Examination Survey" allows Winkler to be exposed to the entire epidemiological process and be published, as she moves toward earning her Bachelor of Science in Public Health, at Ferris, in the Spring 2017.
"Learning how to review and interpret the database is an important skill, as I am applying to schools with plans to earn my Master of Public Health degree," Winkler said. "Dr. Reger has given me step-by-step instruction on how to approach this information. I have learned a great deal about prostate cancer, in terms of risk factors and disparities by taking part in this research."
The assistant professor said that their hope is to complete data analysis by the end of the Fall 2016 semester.
"I would like to begin drafting a manuscript of our results early in the Spring 2017 semester, finalizing that work around March," Reger said. "At that time, we will begin looking for suitable journals for publication. If the analysis yields interesting results, I would like to draft and present a poster at the American Public Health Association annual meeting, in Atlanta, in November, next year."
Faculty Research grants, at Ferris, are coordinated by the Office of Research and Sponsored Programs, in coordination with the Faculty Research Committee. The program is intended to support preliminary phases of a research project that might later be pursued through funding from external sources.