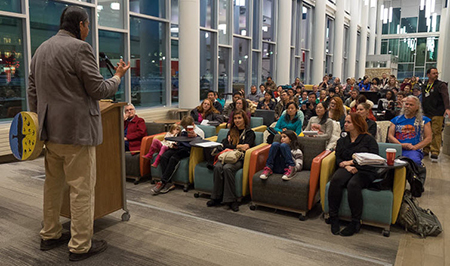 Ferris State University's Office of Multicultural Student Services and Circle of Tribal Nations plan to honor those who have died and provide an opportunity to learn about Native American cultural traditions, as part of the Native American Heritage Month celebration, in November.
OMSS Assistant Director Michael Wade said on Thursday, Nov. 3, a "Ghost Supper" has been organized, as they welcome students, faculty and staff, along with the Big Rapids community, to the West Campus Community Center, between 5 and 9 p.m.
"This is a chance for anyone interested in remembering a loved one to enjoy a traditional fall harvest meal," Wade said. "We hope guests will bring a dish to pass, in what has been a thoughtful and meaningful event each year."
The featured presentation of Native American Heritage Month is the Thanksgiving celebration, to be held on Tuesday, Nov. 22, from 5 to 8 p.m. Wade said "A Native American Thanksgiving" is also a chance for anyone connected to Ferris, or the Big Rapids area, to learn about cultural traditions, as the Circle of Tribal Nations seeks to integrate diversity in a safe and welcoming environment.
"A feast meal is offered, and Thanksgiving teachings are viewed from a Native American perspective," Wade said. "This is a great opportunity for anyone to learn about their own, or another culture, while joining in a larger community."


PHOTO CAPTION: The Circle of Tribal Nations and Ferris State University's Office of Multicultural Student Services have events planned to observe Native American Heritage Month in November. This is from the 2015 Native American Thanksgiving celebration in the University Center.