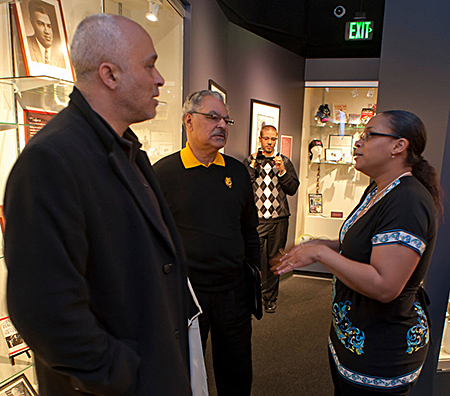 One of the nation's leading newspapers, The New York Times, has partnered with Ferris State University's Jim Crow Museum of Racist Memorabilia, as part of the publication's effort to spur a conversation on race relations through multimedia presentations.
The museum's founder and director, Ferris Vice President for Diversity and Inclusion David Pilgrim, said he was contacted by Logan Jaffe, who is one of three digital producers selected by the Times and American Documentary, Inc. for their "Embedded Mediamaker" project.
"Logan has been given a wide latitude on the focus of her work in this project," Pilgrim said. "A visit to her grandmother's home at Thanksgiving, in 2010, had stuck with her, as she recalled posing for 'selfies' with salt and pepper shakers that had been in the home for decades. Logan wondered about the prevalence of these items, as the women depicted were racial caricatures, which perpetuate the narrative of blacks in positions of servitude to whites. She hoped to engage readers by writing about her experience."
Along with Jaffe's written contribution to Race/Related, an online newsletter offered by the Times, a video she produced featuring Pilgrim and Jim Crow Museum display items has received more than 300,000 views since it was first featured, on Oct. 7.
Pilgrim said his communications continue with Jaffe through social media, as the column and video have produced inquiries from the owners of other racist items, who are considering donation of these possessions to the museum.
"Because of Logan's freedom to continue this narrative, at a moment's notice, she has expressed her desire to collaborate with us," Pilgrim said. "We envision tracking the journey a donation would take, the processing required to put it on display and the resulting engagement as it is viewed by visitors to the museum. We are, in effect, creating new stories with her and this is certainly among the coolest projects we have had."
Jaffe's participation with Race/Related is supported by the John D. and Catherine T. MacArthur Foundation. American Documentary, Inc., the Times' partner in this project, is the producer of the award-winning Public Broadcasting Service documentary series, "Point of View."
Pilgrim said such opportunities have developed regularly in the last four years, as experts from Harvard, and visitors from Australia and Norway have come to the Jim Crow Museum to further their considerations on race, race relations and racism.
"These visits have come about without soliciting their contact," Pilgrim said. "They found our message on the web and people notice the good work we are doing."


PHOTO CAPTION: Ferris State University Vice President for Diversity and Inclusion, David Pilgrim, is founder and curator of the Jim Crow Museum of Racist Memorabilia. Pilgrim, left in the image, was part of a project that featured the Museum in the New York Times.