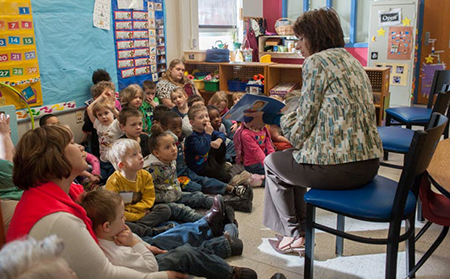 An articulation agreement and transfer guide have been developed and approved so that Northwestern Michigan College students and others with Associate of Applied Science degrees in Early Childhood Education can pursue a Bachelor of Science degree through Ferris State University.
Usman Adamu, director of Ferris' School of Education, said that the first cohort is expected to begin classes in the Fall 2017 semester and will benefit both the students and the university.
"There is a need, statewide, for professionals with this kind of training," Adamu said. "For the university to develop this offering is in keeping with the goals of our founder, Woodbridge Ferris. We will have face-to-face instruction, in Traverse City, and some classes will be blended delivery, with instructors leading classes on Northwestern Michigan's campus on occasion and at other times, through online instruction."
Ferris' ECE program coordinator, Teacher Education professor Liza Ing, said that the program guide and articulation agreement are an important development for students who are already working in daycare facilities and other operations, and hope to improve their professional opportunities by earning a four-year degree.
"Following the transfer guide means no lost credits for these students," Ing said. "They should be able to manage a cost savings by taking certain classes, through NMC, and may complete internships through their current employer without having to relocate from the Traverse City area. Finally, they should find opportunities to advance into positions as lead teachers, working with Head Start programs and as facility directors, as a result of their earning their BS degrees in ECE."
There are approximately 25 students in the cohort who are expected to begin their studies, at NMC, in the Fall 2017 semester. Those pursuing the Child Life Specialist track in the ECE program have 12 credits of coursework, which are only offered through Ferris' main campus in Big Rapids. The articulation agreement and transfer guide took effect as of June 1, 2016 and may be renewed in three years.


PHOTO CAPTION: Ferris State University has reached agreements that will allow Northwestern Michigan College students in Traverse City, and others who have earned associate degrees in Early Childhood Education to pursue their Bachelor of Science in ECE on the NMC campus.