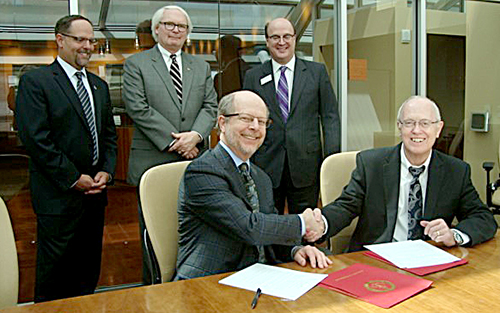 Ferris State University has signed a memorandum of understanding with Van Andel Institute Graduate School, on May 11, to develop a pharmacist-scientist training and education program.
Ferris and VAIGS share a common desire to strengthen and expand their respective programs of education and training in pharmacy and in biomedical and life sciences research. This MOU signifies a shared commitment to develop and promote training of pharmacist scientists who have clinical, professional and research training at the professional and graduate level.
Ferris' College of Pharmacy is well established and respected for its ability to provide a solid foundation in clinical pharmacy. This new collaboration with VAIGS, and development of a novel program pathway, will enhance recruitment of the best students from across the country into the pharmacy program, with the understanding that an entry option into the Van Andel graduate program exists.
"This agreement will provide an opportunity for students to select electives in the Doctor of Pharmacy program that will provide in-depth preparation for the unique graduate studies and research that characterizes VAIGS," said Stephen Durst, dean of the Ferris College of Pharmacy.
VAIGS provides an environment that fosters interactions and promotes collaborations with scientists that are making key discoveries in areas such as neurosciences, epigenomics and cancer. The world-class VARI laboratories and scientists provide students with access to and training in specialized expertise and state-of-the art biomedical research equipment. The VAIGS' problem-based doctoral program is among the top PhD programs in the country.
"This collaboration with VAIGS provides an opportunity for our pharmacy students to advance their education in a unique way, in a world-class research environment, and to pursue advanced careers in biomedical and pharmaceutical sciences," said Thomas Dowling, director of Ferris' Office of Research. "In turn, our students will bring unique perspectives in pharmacology, pharmacokinetics and pathophysiology to the VARI research teams."
Click College of Pharmacy and Van Andel Institute Graduate School for more information.


PHOTO CAPTION: Left to right in front, Steven Triezenberg, president and dean of VAIGS; and Paul Blake, Ferris provost and vice president of Academic Affairs. In back, Thomas Dowling, director of the Ferris Office of Research; Stephen Durst, dean of the College of Pharmacy; and David Whitescarver, vice president and chief legal officer for the Van Andel Institute.