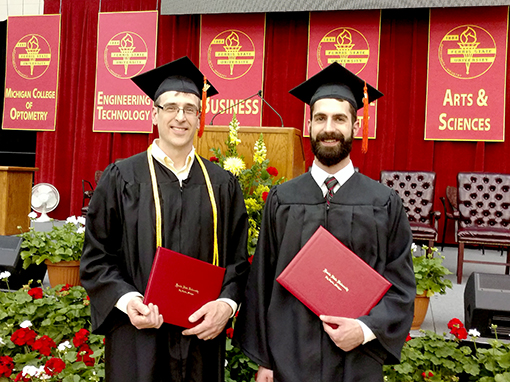 An unusual occurrence was acknowledged during Ferris State University's College of Engineering Technology commencement exercises Saturday, May 7, as a father and son each received Bachelor of Applied Science degrees in Industrial Technology and Management.
Robert Kollinger II, of Sterling Heights, and Robert Kollinger III, of Warren, were highlighted by Ferris President David Eisler, as their story of student success was detailed in the CET commencement program. The elder Kollinger's path in higher education began, in 1986, at Macomb Community College, and his son started his degree pursuits there, in 2008.
"Having President Eisler include our story in his commencement speech was an incredible honor," Kollinger III said. "What I liked most about it was the chance to be able to thank my family in front of everyone for supporting us both during these degrees."
"I am very proud of my son, with everything that he has accomplished, and I was even more proud when he received his bachelor's degree, from Ferris," Kollinger II said. "I was so happy that we were able to share that day, together."
Ken Clark is an instructor and Ferris' ITM program advisor. He had both Kollingers in class sessions, as they began pursuit of their bachelor's degrees on the MCC campus, in 2014.
"It appeared they were trying to get as much out of the program as possible, instead of passing classes with minimum effort," Clark said. "I'm not sure if they drove each other to excellence, or if it was just how both of them were wired. Both were intelligent, dedicated students who were a joy to have in class."
The Kollingers said that they have spent two years in an active pattern of work, studies, and family life.
"Taking classes at MCC, at night or online, allowed me to do the work when I had the time," Kollinger II said. "Going to school did take a lot of effort, and sometimes other things around the house just didn't get done. My wife and kids pitched in when they could, and that helped a lot."
There were a few semesters that were rough for me, leaving work to go straight to class until the late evening four nights a week, but it was worth it in the end," Kollinger III said. "The online classes were much easier to fit into my schedule, because I was able to work on those assignments whenever I found time."
"Bob" Kollinger II is employed as a validation engineer by Antolin Interiors, a Spanish multinational company which acquired Magna Interiors, in September 2015. "Rob" Kollinger III has advanced from contract employee work with General Motors to a salaried position with the automaker. He has also completed an associate's degree in Vehicle Design, at MCC. Both men said that they were pleased by the schedule flexibility afforded them by the ITM program, and would recommend Ferris to those looking to complete a bachelor's degree, or to improve their job prospects. In the near term, both men were planning a less rigorous schedule.
"I plan on enjoying my first summer off in many years," Kollinger II said.
"I'm excited to have the time to work on some projects around the house," Kollinger III said.

PHOTO CAPTION: A father and son from Macomb County each graduated with Bachelor of Applied Science degrees in Industrial Technology and Management, as Robert Kollinger II (pictured, left) and Robert Kollinger III (right) participated in Ferris State University's commencement ceremony Saturday, May 7.