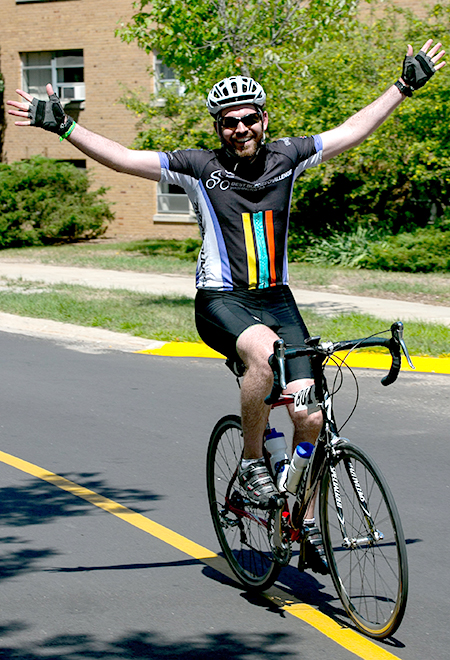 Facilities and departments on the Ferris State University campus will collaborate Friday, July 29, as participants in the Wish-A-Mile 2016 Bicycle Tour make their first overnight stop in Big Rapids.
The major fundraiser for the Make-A-Wish Michigan charity begins its 300-mile trip that morning at Traverse City East Middle School, and Shana Beisiegel, a staffer in Ferris' University Center offices, said they expect to see their first riders, and their support teams arriving by late afternoon.
"University Catering will provide a meal for around 900 people that night," Beisiegel said. "As the bicyclists complete the first leg, at their own pace, we will be serving dinner in stages throughout the evening."
Participants in the Wish-A-Mile 300, and their support teams, will look to rest following their day's travel, and keep their equipment safe. University Recreation assistant director Cinthia Vander Sloot said her department is happy to accommodate these wishes.
"We keep their bikes in a secure location, and offer them housing for the night," Vander Sloot said. "The University Center houses them as well."
Beisiegel said that the tour is an excellent way to show off their facility, as some of the tour's participants were familiar with a different- looking university campus.
"There are always a handful of alumni participating in the Wish-A-Mile tour, and they usually make themselves known to our staff," Beisiegel said. "What they really want is a private, darkened space for sleep, as the next day some will be starting Saturday's preparations as early as 4 a.m. Everyone will be offered a catered breakfast."
The Wish-A-Mile tour starts Thursday, July 28, at Michigan International Speedway in Brooklyn, Mich., and will end there on Sunday, July 31. As riders and their crews leave Ferris State University, they will pass through Greenville on their way to DeWitt, and after an overnight stop on Saturday, July 30, the participants will ride the final 100-mile stretch to MIS. Riders in a Wish-A-Mile 50 will join with those participants in the vicinity of the speedway on Sunday.
Make-A-Wish Michigan grants approximately one wish a day for a child with a life-threatening medical condition. The goal of the Wish-A-Mile 2016 event is to raise $2.2 million, and nearly 85 percent of that total had been pledged as the week began.


PHOTO CAPTION: The 29th Annual Wish-A-Mile Bike Tour will make its first stop Friday, July 29 on the Ferris State University Campus. A rider in last year's event rolls down the final stretch of the first leg near Johnson Hall. (Image courtesy Andrew Knapik Photography)