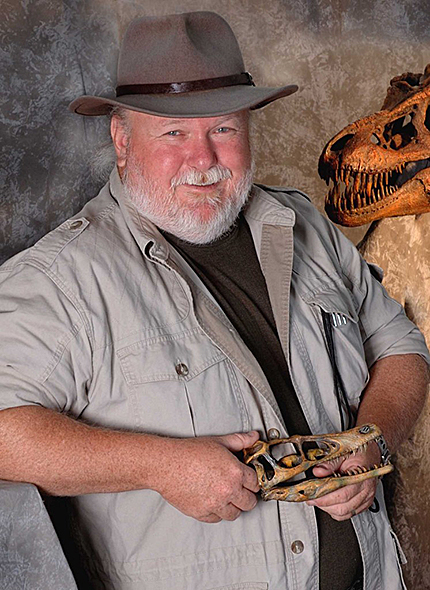 Paleontologist Joe "Paleo Joe" Kchodl will visit Ferris State University's Card Wildlife Education Center on Saturday, Feb. 20, beginning at 11 a.m. Kchodl's visit includes a presentation and interactive museum walk-thru.
Kchodl, featured speaker for "Fossils of the Michigan Basin," will discuss the exhibit in an event that is free and open to the public.
"Fossils of the Michigan Basin will present prepared specimens highlighting creatures of the ancient tropical seas that once covered our state," Kchodl said. "It will also highlight the Michigan state stone, The Petoskey Stone, in its natural and polished forms."
The displayed discoveries were found in Michigan and contain items as old as 350 million years. The exhibit features key fossils such as ancient sea creatures that lived long before the dinosaurs. The exhibit also includes Brachiopods, Gastropods, Sea Lillies and examples of the primitive armor-plated fish that swam the Michigan seas. The traveling exhibit was brought to Ferris by an "Energizing our Communities" grant that was funded by TransCanada, a major North American energy company.
"What I find most interesting about the exhibit is the realization that something very different used to exist in this region," said Carrie Stermer, director of Ferris' Fine Art Gallery. "I hope that what students get out of this is that same realization and the knowledge that everything eventually changes and what exists in the world now may look very different someday."
"Fossils of the Michigan Basin" will run at Ferris through Saturday, April 2. The exhibit is free and open to the public.
Click Card Wildlife Education Center to learn more about the facility, including hours of operation.

Click Joe Kchodl to visit his website.


PHOTO CAPTION: Pictured here is Joe "Paleo Joe" Kchodl, who will be hosting a presentation at the Card Wildlife Center on Saturday, Feb. 20 on Ferris State University's main campus in Big Rapids, Mich.
Last updated: 02-12-2016