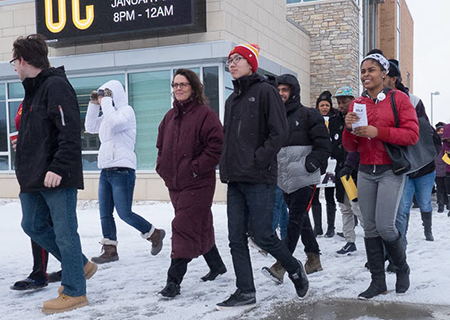 Click the link to view the Dr. Martin Luther King Jr. Celebration Preview Video.
The Big Rapids community is invited to join with Ferris State University students, faculty and staff Monday, Jan. 16 through Wednesday, Jan. 18, as the 31st annual Dr. Martin Luther King, Jr. Celebration takes place, with a total of five events scheduled.
On the MLK Jr. Holiday, Monday, Jan. 16, the 23rd annual faculty/staff in-service, sponsored by the Diversity and Inclusion Office, will be held in Room 203 of the University Center, beginning at 10 a.m. The 31st annual Freedom March and Student Tribute will begin at 4 p.m. in the Rankin Lounge of the University Center, with those participating in the march expected to depart around 4:20 p.m.
The Freedom March and Student Tribute are sponsored by the Office of Multicultural Student Services, and their assistant director Michael Wade said all members of the community are invited to the Tribute, beginning around 5 p.m., in UC Room 202.
"We hope that these events not only celebrate the legacy of Dr. King, but also inspire our campus to be torchbearers for justice, and for positive change," Wade said.
The "Tunnel of Oppression" exhibit will be offered beginning at 10 a.m. Tuesday, Jan. 17, sponsored by the Office of Residence Life's Harmony Project. Merrill/Travis hall director Alex Fiks said students in the Office of Housing and Residence Life researched the topics offered in this featured exhibit, which will be presented in UC Room 116, until 8 p.m., and from 10 a.m. to 5 p.m. on Wednesday, Jan. 18.
"Many types of oppression are covered each year, but this year the Tunnel of Oppression will feature displays on freedom of speech, gun control and mental health, police brutality, online bullying, and human trafficking," Fiks said. "The Tunnel of Oppression is a fascinating opportunity for all who participate."
The day's activities conclude with "Politics Now, What would MLK Think?" The discussion is co-sponsored by the Political Engagement Project, and will begin at 5 p.m. in UC 202B. This event is expected to look at current events on the U.S. political scene while considering the perspective of King, one of history's most influential civil rights leaders.
The five-star event on the MLK Celebration schedule will be offered at 7 p.m. Wednesday, Jan. 18, as activist and CNN political commentator Bakari Sellers will speak in UC Room 202. Sellers is on the national council for the American-Israel Public Affairs Committee, as well as being seen as a rising star in the Democratic Party.
"One of Dr. King's final books, 'Where do we go from here, Chaos or Community?' seems particularly poignant, given the wave of activities that have led to the election of Donald Trump," Sellers said. "Students, and citizens of all ages, need to focus on bringing our country together."
All MLK Celebration events are free, and open to the public. Anyone in need of assistance to attend any of the events should contact the OMSS at (231) 591-2617 or email [email protected] at least 72 hours in advance.
Those interested in learning more about the activities can keep up with the latest on Ferris' MLK Celebration online.


PHOTO CAPTION: Marchers leave from the University Center building during a past Ferris State University Dr. Martin Luther King Jr. Celebration event. This year's celebration begins Monday, Jan. 16 and runs through Wednesday, Jan. 18.