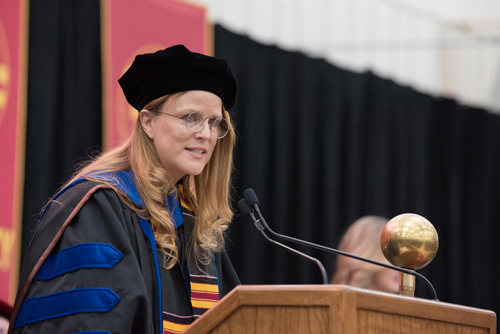 Click the link for video highlights of the Fall 2016 Commencement.

Click the link for video messages from graduates thanking people.

Click the link for images from Fall 2016 commencement ceremonies.
Ferris State University President David Eisler and College of Health Professions Associate Professor Sharon Colley, the featured commencement speaker, were among the individuals who addressed graduates in attendance during ceremonies on Saturday, Dec. 17 in Jim Wink Arena in Big Rapids.
This semester, 1,156 students earned certificates and degrees, 1,000-plus graduated and more than 700 participated in Saturday's ceremonies. The morning session honored graduates from the colleges of Business and Health Professions while the afternoon session celebrated graduates of the colleges of Arts, Sciences and Education, Education and Human Services, and Engineering Technology. During the ceremonies, the graduates heard messages of recognition for what has been accomplished and inspiration for what can be accomplished in the future.
"We are immensely proud of each of you. It is a true honor to stand before you, the Class of 2016. This is an opportunity for you to reflect upon your accomplishments, here at Ferris State University," Eisler said. "Your success is built upon the people who care about you and who take great pride in your growth and development."
The president's remarks set the stage for Colley, the 2016 recipient of Ferris' Distinguished Teacher Award. The coordinator of Ferris' Master of Science in Nursing program, Colley is just the third Distinguished Teacher Award honoree, since 2000, to have earned a bachelor's and master's degree from Ferris. Nuclear Medicine Technology Associate Professor Sheila MacEachron was a 2002 recipient while Information Security and Intelligence Professor Greg Gogolin was recognized, in 2011.
Colley, who referenced her own strong family support, addressed graduates through a personal testimony. She urged the Class of 2016 to be conscious of thoughtful decision making and to express appreciation to the people who have played an important support role in their academic and life successes.
"I encourage you to make choices that will serve you and the world, well. As you enter your profession, I also encourage you to repay those individuals who have supported you by being a support to others who are struggling to find their way," she said. "When you were in your time in the sun, through honors or awards, always remember that for you to have that moment, in the sun, someone stood in the shadows, supporting you."
Colley added, "I wish all of you a future filled with times of grace and success in the sun and times of strength and support in the shadows. Congratulations."
Follow the conversation, in social media, by visiting the Facebook, Instagram and Twitter accounts. Also, in social media, follow #FerrisGrad2016.


PHOTO CAPTION: Ferris State University College of Health Professions Associate Professor Sharon Colley was the featured speaker during the Dec. 17 commencement ceremonies in Jim Wink Arena.