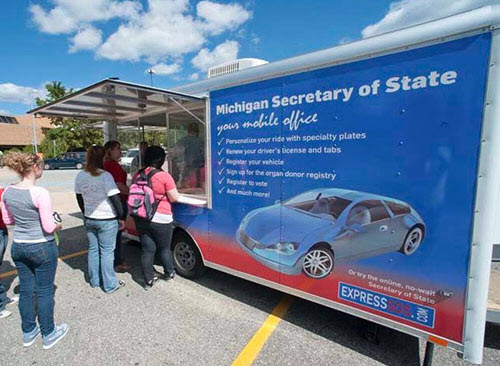 With a focus on helping college students form the habits of civic engagement and participation, Ferris State University has joined the ALL IN Campus Democracy Challenge to improve, measure and celebrate its efforts to change campus climate, and encourage informed participation in the electoral process.
The ALL IN Challenge, a program of Civic Nation, recognizes campuses committed to improving democratic engagement, increasing voter participation rates and graduating informed and active citizens. Each campus commits to a set of actions, are recognized for achieving established benchmarks, and are presented awards for exemplary efforts.
Mickey Albright, Ferris' coordinator of the Career and Volunteer Center in the Center for Leadership, Activities and Career Services said that they are excited to be part of the ALL IN Challenge.
"Along with the Office of Multicultural Student Services, and the Political Engagement Project, we are planning activities throughout the 2016-17 academic year," Albright said. "The Secretary of State's Mobile Voter Registration unit will be on the Campus Quad on Wednesday, Sept. 14 from 10 a.m. to 4 p.m. to kick off the ALL IN Challenge."
"Preparing graduates for their public lives as citizens, members of communities and professionals in society has historically been a responsibility of higher education," said Zaneeta E. Daver, director of the ALL IN Challenge. "We are thrilled to welcome Ferris as a participant in the Challenge, and applaud this commitment to making engagement with our democracy a meaningful and pervasive part of campus culture."
By joining the ALL IN Challenge, Ferris will establish a committee of faculty, students and staff to develop and implement an action plan, and coordinate efforts of individual groups, with the goal of increasing informed participation in the electoral process.
"Students who would like to join our steering committee can express their interest by sending an email," Albright said.
Ferris will also support the Jonathan M. Tisch College of Civic Life, a program of the Jonathan M. Tisch College of Civic Life at Tufts University, and share the student voting participation rates from its NSLVE report with the ALL IN Challenge, in order to be considered for recognition, nationally, and among its peers. The first awards presentation will take place in Washington, DC, in fall 2017 and biennially thereafter.
The ALL IN Campus Democracy Challenge benefits from the support and insight of an All In Campus Democracy Challenge Team and works in partnership with organizations such as Campus Compact, American Democracy Project, NASPA – Student Affairs Professionals in Higher Education, Rock the Vote and others to advance the shared goal of informed and increased participation in the electoral life of our nation.